Department of Labor issues "religious liberty" directive in wake of Masterpiece Cakeshop ruling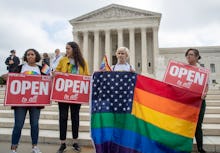 The U.S. Department of Labor has become the latest agency under the Trump administration to champion "religious liberty," issuing a new directive in the wake of the Supreme Court's ruling in Masterpiece Cakeshop v. Colorado Civil Rights Commission and the administration's push to prevent what it sees as discrimination on religious grounds.
The directive, which the Office of Federal Contract Compliance Programs issued Aug. 10, highlighted the recent court decisions and executive orders that have "reminded the federal government of its duty to protect religious exercise — and not to impede it."
In addition to June's Masterpiece ruling, which stated that a Colorado cake maker, "was entitled to a neutral and respectful consideration of his claims in all the circumstances of the case," and the 2014 Supreme Court decision in Burwell v. Hobby Lobby Stores that protected an employer's right to deny birth control coverage based on its religious objectives, the directive highlighted two executive orders President Donald Trump has signed that promote "religious liberty."
Though anti-discrimination protections remain in place, prohibiting federal contractors and subcontractors from discriminating on the basis of "race, color, religion, sex, sexual orientation, gender identity, national origin, disability or status as a protected veteran," the directive instructs OFCCP staffers to take the new religious liberty rulings into account in "all their relevant activities." The OFCCP is a division of the Department of Labor tasked with protecting workers by ensuring those who do business with the federal government comply with anti-discrimination requirements.
The directive tells OFCCP staff they must "proceed in a manner neutral toward and tolerant of ... religious beliefs" as well as allow faith-based organizations to "compete [for federal contracts] on a level playing field."
"[OFCCP staffers] must respect the right of 'religious people and institutions ... to practice their faith without fear of discrimination or retaliation by the federal government,'" the directive stated.
Critics are decrying the new directive, claiming it opens the door for discrimination against LGBTQ workers and others who could be discriminated against by faith-based groups.
"In practice, this means religious groups must be allowed to discriminate," Nick Little, vice president and general counsel at the Center for Inquiry, said in a statement. "They can take federal money and federal contracts and refuse to follow the federal anti-discrimination laws which exist for the protection of all Americans. And it is clear who are going to be harmed by this policy move — the LGBTQ community, women and religious minorities including atheists."
The Labor Department directive is the Trump administration's latest action to promote "religious liberty" — potentially to the detriment of the LGBTQ communities and other marginalized Americans. The executive orders cited in the directive established a White House Faith and Opportunity Initiative and made it the "policy of the executive branch to vigorously enforce federal law's robust protections for religious freedom."
Attorney General Jeff Sessions in July announced a religious liberty task force to enforce the government's protections, while the Department of Health and Human Services has formed a new division devoted to protecting health care workers who refuse to provide services on moral or religious grounds.
"The language of this directive is so broad and so vague because it is part of a long line of attempts by this administration to sow confusion and encourage any employer to act on their worst prejudices," Harper Jean Tobin, director of policy at the National Center for Transgender Equality, said in a statement. "No employer should be allowed to use taxpayer dollars to fire someone because of who they are."