Who's Sorry This Week? Lindsay Lohan, Sarah Huckabee Sanders and other public apologies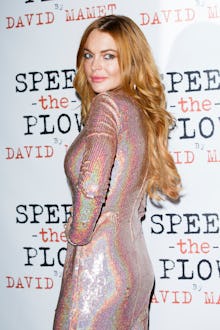 Another week, another deluge of apologies.
In Who's Sorry This Week? Mic tracks down the most prominent mea culpas from celebrities, companies and other public entities trying to make amends for their various screw-ups.
This week had no shortage of apologies, so let's get right to it.
Sarah Huckabee Sanders is sorry she misstated the number of jobs former President Barack Obama created for African-Americans
In a press briefing Tuesday, White House press secretary Sarah Huckabee Sanders made some interesting claims about the job market under President Donald Trump and how it compares to the job market under former President Barack Obama.
"This president, since he took office, in the year and a half that he's been here, has created 700,000 new jobs for African-Americans," Sanders said, CNN reported. "That's 700,000 African-Americans that are working now that weren't working when this president took place. When President Obama left after eight years in office, he had only created 195,000 jobs for African-Americans."
Shortly thereafter, Bloomberg reported the inaccuracies in the figures Sanders provided. According to the U.S. Bureau of Labor Statistics, the economy added about 3 million jobs for African-Americans while Obama was in office — not 195,000.
A few hours after the briefing, the Council of Economic Advisers attributed Sanders' false statement to a "miscommunication." Sanders herself acknowledged the inaccuracy and apologized on Twitter. She maintained the figures were correct — that only the time frame was wrong.
"I'm sorry for the mistake, but no apologies for the 700,000 jobs for African-Americans created under President Trump," she said.
Lindsay Lohan is sorry she said women look "weak" when they speak out about sexual assault
In a recent interview with The Times, Lindsay Lohan characterized the #MeToo movement, which encourages victims of sexual misconduct to speak out about their experiences, as something that makes women look "weak."
"I'm going to really hate myself for saying this, but I think by women speaking against these things, it makes them look weak when they are very strong women," Lohan said, seemingly anticipating a backlash.
Backlash quickly followed, of course.
Lohan issued a statement to People on Sunday, apologizing for saying women are chiming in with their own #MeToo stories "for the attention."
"The quote solely related to my hope that a handful of false testimonies out of a tsunami of heroic voices do not serve to dilute the importance of the #MeToo movement and all of us who champion it," Lohan said. "However, I have since learned how statements like mine are seen as hurtful, which was never my intent. I'm sorry for any pain I may have caused."
Fox News is sorry it used a picture of Patti LaBelle in its obituary for Aretha Franklin
Music icon Aretha Franklin died Thursday at age 76 due to pancreatic cancer. As the news broke, nearly every media outlet shared their own breaking news posts on social media to inform their audiences of her passing. Fox News', however, made a rather hefty mistake.
In a now-deleted tweet, Fox News posted an edited image in which Franklin's portrait appeared in the foreground. Behind her was an image of Patti LaBelle, who was reportedly one of Franklin's biggest rivals.
Almost immediately, onlookers called out Fox News for seemingly confusing the two singers up. Fox News deleted the tweet and apologized, claiming the image was supposed to show a picture of Franklin and LaBelle performing together, but the cropping of the photo made things confusing.
"We sincerely apologize to Aretha Franklin's family and friends," Fox News said in a statement, HuffPost reported. "Our intention was to honor the icon using a secondary image of her performing with Patti LaBelle in the full screen graphic, but the image of Ms. Franklin was obscured in that process, which we deeply regret."
However, as HuffPost noted, the original photograph Fox News used showed LaBelle accompanied by a band — and did not, in fact, show Franklin at all.
Voltron: Legendary Defender's showrunner is sorry for "queerbaiting" its fans
(Editor's note: Spoilers for season 7 of Voltron: Legendary Defender follow.)
In advance of the seventh season of Voltron: Legendary Defender, a Netflix reboot of a cheesy '80s cartoon, audiences got a first look at Adam, the boyfriend of main character Shiro. (Shiro's the one in the center in the above image, with a spunky puff of white hair hanging down over his forehead.) The revelation that Shiro's an out gay man had fans of the show understandably excited — but when the new season hit Netflix on Aug. 10, fans quickly found themselves disappointed.
Adam only appears in two episodes — and in one of them, he's killed, according to io9. Voltron's reinforcement of the "bury your gays" trope, in which characters are revealed as queer and then instantly killed off, led fans to accuse the show's creators of "queerbaiting" to drum up media attention. Essentially, fans charged creators with wanting to appear progressive by introducing queer main characters, but instead using the characters' sexuality as mere plot devices when they couldn't be bothered to actually write a compelling queer relationship.
In a lengthy statement posted to Twitter on Monday, executive producer Joaquim Dos Santos responded to the criticism and apologized for letting fans down.
"If anyone for any reason took away from this season that our intention was to queerbait the VLD fandom, I'd like to personally apologize," he wrote. "I can only speak to our intent and I can truly say we did not intend to bait anyone. I know that is not any consolation but it is the truth."
Dos Santos went on to ask Voltron fans to refrain from spewing harassment and vitriol at the show's writers — though he did end his statement with a promise to improve things moving forward.
"There is no way to take away the hurt some of you have felt with the loss of Adam and, from a bigger perspective, how we fumbled a potentially larger positive social message," he said. "What I can say is that we're riding an ever-moving fine line here and trying to navigate as best we can while still moving the conversation forward."