Aretha Franklin wasn't just a legendary singer. She was also a civil rights hero.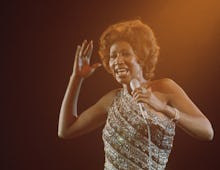 On Thursday, it was announced that Aretha Franklin, the Queen of Soul, Detroit's finest, and diva of all divas, departed this world — leaving it without one of the finest voices it has ever heard. Because of her immense gift, many have offered their respects to a woman whose contributions are so substantial that it feels like no amount of words can truly capture how pivotal her place in history is.
However, some have made clear that in some cases, the best way to pay one's respects is to do so in complete silence. As he so often does, President Donald Trump managed to take a moment meant for reflection, introspection and dedication and debase it by turning it into yet another act of self-aggrandizement, topped with sprinkles of racism. In a statement, Trump wrote: "I want to begin today by expressing my condolences to the family of a person I knew well. She worked for me on numerous occasions."
We have no idea if Trump really knew Franklin — much less knew her well — but the context in which he describes their relationship is thoughtless. To say "she worked for me" manages to place the Queen of Soul as one of the fake king's little servants. Aretha Franklin was not that woman. If anything, her storied career is a reminder of how important it is to use whatever platform you have to help aid those who speak truths to power — notably against bigots like Trump and his supporters.
When you consider the legacy of Aretha Franklin, you must reflect on her voice not just as a vocalist but as an activist and advocate. She comes from an era in which black entertainers explicitly used their success to lend support to the advancement of all black people. Franklin is the daughter of Rev. C.L. Franklin, who preached black-liberation theology at New Bethel Baptist Church in Detroit. Rev. Franklin was a friend to Martin Luther King Jr., Jesse Jackson, Adam Clayton Powell Jr. and others civil rights heroes. She was raised in the movement and would go on to help score it. As a teenager, Franklin toured with King and raised money with with actors Harry Belafonte and Sidney Poitier for King's Southern Christian Leadership Conference in the late 1960s.
In a statement, civil rights leader and Congressman John Lewis said that Franklin had a "lifelong, unwavering commitment to civil rights and was one of the strongest supporters of the movement." In separate interviews, the congressman, who delivered a keynote address at the 1963 March on Washington, credited Franklin's music for giving life to the civil rights movement. Lewis said the songs "strengthened" and "revived" civil rights activists as they fought their causes.
Of course, her contributions would include classics like "Respect," but it wasn't just her music that lent a morale boost. While she may not have engaged in civil disobedience, Franklin took proactive measures to make her stance on equality clear. Indeed, in the 1960s, she had it written into her contract that she would not perform for a segregated audience.
Her success continued in the following decade — as did her advocacy with the rise of the black power movement. In 1970, following the arrest of Angela Davis, Jet magazine reported that Franklin was ready to cover Davis' bond. Davis was cleared of charges of wrongful kidnapping and murder in 1972 and ultimately a dairy farmer named Roger McAfee offered his property as collateral for her bail.
Still, the offer was sincere and serious, and upon reflecting on it in Respect: The Life of Franklin, the singer told writer David Ritz: "My daddy says I don't know what I'm doing. Well, I respect him, of course, but I'm going to stick to my beliefs. Angela Davis must go free. Black people must be free. ... Jail is hell to be in. I'm going to set her free if there is any justice in our courts, not because I believe in communism, but because she's a black woman and she wants freedom for black people. I have the money; I got it from black people — they've made me financially able to have it — and I want to use it in ways that will help our people."
In an interview with the Nation's Farah Jasmine Griffin, Davis said: "Beyond the promise of financial support, the fact that she championed the cause of my freedom had a profound impact on the campaign. Especially because her statement inferred that people should not fear being associated with a communist, rather they should be concerned about justice… Her bold public call for justice in my case helped in a major way to consolidate the international campaign for my freedom."
Aretha Franklin loved black people deeply. That is reflective in her vocal instrument being so emblematic of our cultural traditions and her using the fame and fortune that instrument provided to boost those who, too, loved black people. It inspired marginalized people to continue to push the majority in this country to abandon its prejudices and deliver on this nation's promise. To love black people is still a revolutionary act, but to do so with such vigor at such a tumultuous time in American history is a testament to Franklin's devotion. We all owe her an immense level of gratitude.
Aretha Franklin is a patriot. Her voice, again, has produced some of the finest sounds ever heard in history. She has done far more for this country than it ever did for her. That perhaps is what made Trump's piss-poor dedication so repulsive. If she worked for anyone during her time here, it was on behalf of other black people.
She may have been a diva, but she was also a fearless, selfless artist who understood how important it is to speak up for those who often cannot speak for themselves. And she did so because, unlike some people, she understood that it is not now nor is it ever solely about her. For many artists living in this chaotic climate — one where many of our political leaders would like to reverse all of the accomplishments made during the civil rights movement — she is a model to follow. We need more Aretha Franklins now more than ever.