While You Weren't Looking: 5 stories from the Trump administration that aren't about Omarosa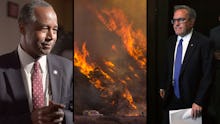 As ousted former Trump aide Omarosa Manigault Newman appeared across major TV networks this week pedaling clandestine audio she'd captured inside the White House with the use of what some speculated to be a recording pen, business continued to churn on as usual in Washington.
From lies about fuel efficiency standards to American women gearing up to fight for their abortion rights, here are five important stories you might have missed this week.
Ben Carson to scrap Obama-era plans to minimize housing segregation
The U.S. Department of Housing and Urban Development announced in a statement Monday it plans to move forward with plans to dismantle an Obama-era rule aimed at strengthening the Fair Housing Act.
Known as the Affirmatively Furthering Fair Housing rule, the 2015 directive in question was designed to encourage cities and suburbs to set ambitious goals around reducing segregation and discriminatory housing policies. While HUD secretary Ben Carson has affirmed he "believes very deeply in the purposes of the Fair Housing Act," he has also in the past referred to national attempts to desegregate housing as "failed socialist experiments."
In Monday's statement, Carson said the AFFH rule has "actually impeded the development and rehabilitation of affordable housing."
"It's ironic that the current AFFH rule, which was designed to expand affordable housing choices, is actually suffocating investment in some of our most distressed neighborhoods that need our investment the most," Carson said. "We do not have to abandon communities in need. Instead we believe we can craft a new, fairer rule that creates choices for quality housing across all communities."
As fair housing experts who spoke to Slate noted, while the rule did encourage cities to set fairer housing goals, it didn't actually impede on their autonomy, and actually offered them flexibility in their options of how to meet those goals.
Acting EPA head spread lies about fuel efficiency and emissions standards in a Sinclair Broadcasting "must-run"
On Monday, Sinclair Broadcast Group aired the first of a three-part interview with acting Environmental Protection Agency administrator Andrew Wheeler, in which he dug in his heels over how positive the Trump administration's widely panned decision to do away with Obama-era auto fuel efficiency and emissions standards will be in the long run.
According to Wheeler, freezing the standards "will save over 1,000 lives a year," and will line the wallets of U.S. consumers to the tune of $500 billion. However, according to watchdog site Media Matters for America, experts have estimated that the existing standards the administration is rolling back were projected to save consumers $1.7 trillion in fuel costs.
By now you might be familiar with conservative Sinclair Broadcast Group's penchant for providing local news stations with "must-run" packaged segments, which are largely aimed at undercutting other news organizations's credibility and bolstering confidence in Trump's agenda. The interview with Wheeler was no exception, as MMA notes. Sinclair's chief political analyst Boris Epshteyn is allowing Wheeler to speak on debunked claims about the dangers of more energy-efficient vehicles and praising his efforts to "get rid of the unnecessary, stifling regulations."
Wheeler's decision to appear on the network — his first such appearance on any network since assuming his current position — is telling.
Trump administration might be gearing up to sell public land — despite interior secretary's assurances he'd never do that
After announcing the redrawing the boundaries around the Grand Staircase-Escalante National Monument in December, the U.S. Department of the Interior is now considering selling off a large parcel of the once-protected land — contradicting earlier assurances by Interior Secretary Ryan Zinke that he wouldn't do such a thing.
Details of the plan to sell emerged this week after the Bureau of Land Management released a memo on Wednesday that outlined plans for Grand Staircase and another national park Utah, Bears Ears. The proposal references the disposal of up to 1,600 acres of government-protected land.
This goes against what Zinke promised during his Senate confirmation hearing in January, when he said, "I am absolutely against transfer or sale of public land."
Sen. Maria Cantwell (D-Wash.), the ranking Democrat on the Senate Committee on Energy and Natural Resources, told the Washington Post the decision to sell off the land was baldly contradictory.
"Secretary Zinke famously said that 'not one square inch' of public land has been sold off under his watch," said Cantwell, who was present for Zinke's confirmation hearing. "Now it's clear he meant to add ... 'yet.' This sell-off is an outrageous betrayal of the public trust and must not be allowed."
News of the plans to sell the land came amid Zinke's comments on the California wildfires, which the Huffington Post said was a "dizzying display of misinformation and climate change denialism."
"I've heard the climate change argument back and forth," Zinke told KCRA in Sacramento of the wildfires. "This has nothing to do with climate change. This has to do with active forest management."
Trump administration is proposing $3 billion in cuts to foreign aid
The Trump administration is reportedly mulling a plan to rescind $3 billion in foreign aid, despite the fact that Congress already approved how it's supposed to be spent.
According to a memo from the Office of Management and Budget obtained by the Washington Post, the administration wants to slash aid for any expiring international assistance funds it deems "unnecessary." If Congress fails to free up the funds, "they will remain on hold until the end of the fiscal year ... then be returned to the Treasury," according to the document.
The move would reportedly exploit a loophole in the Congressional Budget and Impoundment Control Act that would allow the president to freeze unspent funding less than 45 days away from the end of the fiscal year. This comes at a time when Congress is out of session, and when it rejoins, would likely be overwhelmed with the upcoming midterm elections and the nomination of a Supreme Court appointee.
At least one senator — New Jersey's Robert Menendez, the top-ranking Democrat on the Senate Foreign Relations Committee — told the Post that he planned to challenge the administration's plans, "or retaliate by holding up all nominations" if the executive branch tried to make good on its directive.
Poll indicates women are gearing up to fight for their reproductive rights
A CNN poll released on Thursday found that Supreme Court nominee Brett Kavanuagh's public support is hovering around 37% — an augur of a storm brewing among women concerned about securing their reproductive futures.
The poll found fewer than 3 in 10 woman support the confirmation of Kavanaugh, whose symbolic association with overturning the landmark 1973 Roe v. Wade decision has became the defining feature of his nomination to the Supreme Court.
The Roe ruling is overwhelmingly popular, with even a slim majority of Republicans supporting it. Now, ahead of the midterm elections, women have been mounting an impassioned defense of their reproductive rights, even launching a 10-city Rise Up For Roe tour aimed at raising awareness about their embattled abortion rights.
In a statement responding to the poll, NARAL Pro-Choice America vice president Adrienne Kimmell said in a statement that the flip side of 28% of women supporting Kavanaugh's confirmation means that "72% — an overwhelming majority — understand the damage he will do to our rights, our lives, and our fundamental freedoms."
"Confirming Kavanaugh would wreck the American people's confidence in the Supreme Court's critical purpose, and sow doubt in the minds of voters all across the country about who our senators really represent," Kimmell said. "The American people have spoken, we will not forget a vote to end Roe and punish women. Now it's time for every senator to come out as a no, or be prepared to pay the price in November."