Mueller submits more than 1,000 exhibits for second Manafort trial in September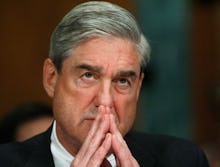 Robert Mueller has proposed "well over" 1,000 exhibits in the second trial for President Donald Trump's former campaign chairman, Paul Manafort, which gets underway in Washington, D.C. in September.
That's nearly three times the evidence prosecutors presented in Manafort's first trial, which entered its second day of jury deliberations Friday.
Manafort's second trial, set to begin Sept. 17, is expected to focus on charges related to alleged money laundering, witness tampering and violations of the Foreign Agents Registration Act. These counts are more directly related to the main thrust of Mueller's investigation into possible collusion between the Trump campaign and the Kremlin, along with potential obstruction of justice on the part of the president.
Manafort spent years working on behalf of pro-Russian interests in Ukraine, but failed to disclose at least some of that work under FARA. He retroactively registered as a foreign agent in 2017, nearly a year after scrutiny of his work for Viktor Yanukovych and his pro-Russian Party of Regions forced him to resign as Trump's campaign manager in August 2016.
Mueller indicted Manafort and his longtime associate, Rick Gates, in October. Gates cut a plea deal with the special counsel in February and testified against his former boss as the prosecution's star witness in Manafort's first trial, which has focused on his alleged financial and bank fraud.
Prosecutors over the course of 10 days hammered Manafort over his "lies — lies on his tax returns and lies to bank after bank after bank." They presented about 400 pieces of evidence and called more than two dozen witnesses to the stand.
"Mr. Manafort lied to keep more money when he had it, and he lied to get more money when he didn't," prosecutor Greg Andres said in a nearly two-hour closing argument Wednesday.
But the defense countered the government hadn't met its burden of proof against Manafort and rested its case without calling a single witness to the stand. His attorneys also attempted to shift the blame to Gates and cast Manafort's longtime deputy as unreliable.
Jury deliberations in the case began Thursday. After almost a full day, jurors submitted four questions to Judge T.S. Ellis, including one asking him to redefine the term "reasonable doubt." Ellis responded that prosecutors had to prove their case beyond "doubt based on reason" — not "beyond a possible doubt." The jury continued its deliberations Friday morning.
If Manafort is convicted on even some of the 18 charges against him in this first trial, the 69-year-old could face significant jail time.
Trump and others in his orbit have largely attempted to distance themselves from Manafort, but the president has occasionally suggested his former campaign manager's treatment has been "very unfair."
"Looking back on history, who was treated worse, Alfonse Capone, legendary mob boss, killer and 'Public Enemy Number One,' or Paul Manafort, political operative & Reagan/Dole darling, now serving solitary confinement — although convicted of nothing?" Trump tweeted in August. "Where is the Russian Collusion?"
Trump directly defended Manafort in comments to reporters outside the White House on Friday, calling him a "good man" and telling the press "it's very sad what they've done to Paul Manafort."