This week in food and travel: A new report finds traces of Monsanto pesticide in oat-based foods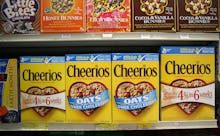 The Environmental Working Group on Wednesday published a report from a commissioned laboratory test of 45 products made with oats. Glyphosate, an herbicide that has been linked to cancer, was found in nearly all of them.
Glyphosate is the most-widely used herbicide in the U.S., Alexis Temkin, EWG's toxicologist, said in a phone interview. The tested products — which include popular brands such as Quaker and General Mills, which produces cereals like Cheerios and Lucky Charms — do not violate the legal limit of glyphosate set by the Environmental Protection Agency. The EWG suggests a lower limit, however, over concerns that children are more susceptible to carcinogens.
In other news, Mic also looked at what an oyster discovery says about the quality of water in the Hudson River, why Caribbean festivals are a place to celebrate freedom and heritage and how Bollywood movies turned Switzerland into a romantic travel destination.
The Environmental Working Group's test, which included both organic and non-organic oat products, found that both types of products were susceptible to pesticide contamination.
The eight-inch oyster — estimated to be 10 to 15 years old — tells us the Hudson River might not be as gross as we once thought.
Bollywood movies have been filmed in Switzerland since the late 1980s, leading to a huge increase in honeymoon tourism from India.
Caribbean festivals are a judgment-free zone, where people of all shapes, sizes, races and ages wear as little or as much they want in the name of personal expression.