What Melania Trump wore her 82nd week as first lady: We don't know, do you?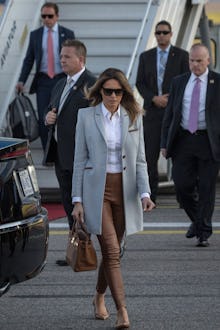 First lady Melania Trump was absent from the public eye this week, as her husband's administration was rocked by Donald Trump campaign chairman Paul Manafort's criminal trial and a new tell-all book from Omarosa Manigault Newman. Amid the fray, Melania Trump stayed out of sight and beyond the scope of cameras — so it's impossible to say which designers she wore this week.
Was the first lady keeping a low profile because of Manigault Newman's claims that she is using her fashion choices to "punish" her husband? Or because of Manigault Newman's claims that Melania Trump "is counting every minute until [Trump] is out of office and she can divorce him"?
Obviously, there's no way of knowing why the first lady wasn't spotted in public this week — she didn't tweet from her @FLOTUS account, either — but if you're missing the Melania Trump fashion news, never fear, because she will return to the spotlight next week.
The White House announced that on Monday, Trump will attend a Maryland summit focused on "addressing the positive and negative effects of social media on youth," the Hill reported on Thursday. So we'll see what she wears to that. In the meantime, be best, everyone!
You can read previous recaps of what Melania Trump wore here.