Trump defends Manafort: "It's a very sad day for our country"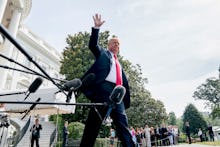 President Donald Trump defended Paul Manafort on Friday in remarks to reporters outside the White House, describing his embattled former campaign chairman as a "good person" and saying it is "very sad" he is on trial.
"I think the whole Manafort trial is very sad, when you look at what's going on there," Trump said. "I think it's a very sad day for our country."
The remarks came as a Virginia jury entered its second day of deliberations in Manafort's bank and financial fraud trial, during which prosecutors hammered the former Trump campaign chairman's "lies."
Trump has largely attempted to distance himself from Manafort and initially told reporters Friday he "[doesn't] talk about that." When he did offer thoughts on the trial moments later, he continued to attempt to put daylight between himself and his former campaign chair, telling reporters Manafort "worked for [him] for a very short period of time." The president also offered a full-throated defense of Manafort's character and painted him as a victim of special counsel Robert Mueller.
"He happens to be a very good person," Trump said. "And I think it's very sad what they've done to Paul Manafort."
Manafort, who faces a second trial in September on charges related to money laundering, foreign lobbying and witness tampering, was indicted in October as part of Mueller's investigation into possible collusion between the Trump campaign and the Kremlin, along with potential obstruction of justice on the part of the president.
Trump routinely bashes the probe as a "witch hunt" and claims federal law enforcement is biased against him. He has also complained about Manafort's supposed "unfair" treatment by prosecutors.
In his comments to reporters as he left the White House on Friday for a trip to New York and New Jersey, he again slammed the Russia investigation as "rigged" and claimed Mueller is "highly conflicted."
"We did nothing," Trump said, alleging it was actually his political opponents who engaged in criminal behavior. "There's no collusion."
Manafort joined the Trump campaign in March 2016 and served as its chairman from June to August of that year — a period that included the Republican National Convention, where Trump officially became the party's nominee for president.
Before joining the Trump campaign, Manafort served as a political consultant and lobbyist, working for a number of authoritarian leaders and pro-Russian interests in Ukraine.
Manafort could face life in prison if convicted on the charges against him Virginia. If convicted on all 18 counts, he could receive up to 305 years.