This Week in Trump-Russia News: Trump takes action against his critics as Manafort verdict looms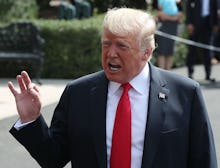 President Donald Trump initially explained that he stripped former CIA director John Brennan of his security clearance because of his so-called "erratic conduct and behavior."
"Mr. Brennan has a history that calls into question his objectivity and credibility," Trump said in a statement read by White House press secretary Sarah Huckabee Sanders in a briefing Wednesday.
But Trump — someone who, of all people, is probably not in much of a position to slam anyone else as "erratic" — almost immediately contradicted that rationale, telling the Wall Street Journal that same day that he revoked Brennan's clearance because of his role in the Russia investigation.
"I call it the rigged witch hunt, [it] is a sham," Trump told the paper Wednesday. "And these people led it!"
"So I think it's something that had to be done," he added.
It was a stunning admission, one that has opened the president up to accusations of using his power to silence critics — and that could strengthen a possible obstruction of justice case against him.
Here's what you need to know about Trump's latest attack on the Russia probe, which is facing its biggest test as a Virginia jury continues to deliberate the fate of Paul Manafort.
Trump has another "Lester Holt moment"
Brennan was one of the United States intelligence officials who briefed Trump on Russia's 2016 election interference ahead of his inauguration.
Trump has long railed against the Obama-era CIA director, describing him as one of the "biggest liars" in Washington, D.C.
But Trump's move to revoke his security clearance — and his threats to do the same to others who have criticized him, including former FBI director James Comey — has been decried as "unprecedented."
He initially suggested in his statement that the move was made in the interests of national security. But reporters pointed out that everyone named in the statement Sanders read — Comey, James Clapper, Michael Hayden, Sally Yates, Susan Rice, Andrew McCabe, Peter Strzok, Lisa Page and Bruce Ohr — have been seen as critics of Trump.
Asked if the president was targeting his political opponents, Sanders said "we would certainly take a look" at others, as well — though she did not name any Trump allies whose security clearance could be revoked.
The composition of Trump's list already seemed to undercut the credibility of that explanation, but the president completely contradicted his stated reasoning in an interview that same day with WSJ, explicitly connecting the move to his frustration with the Russia probe.
"I don't trust many of those people on that list," Trump said. "I think that they're very duplicitous. I think they're not good people."
The about-face was reminiscent of the now-infamous NBC News interview he gave to Lester Holt days after firing Comey in May 2017.
His administration had initially cited Comey's handling of the Hillary Clinton email investigation as the reason for his canning, but Trump told Holt two days later that "this Russia thing with Trump and Russia" was on his mind when he terminated the FBI director.
That firing has become a key element of special counsel Robert Mueller's Russia investigation, which also focuses on possible obstruction of justice on the part of Trump.
It's hard to imagine going after Brennan because of the Russia investigation wouldn't be of similar interest to the special counsel, whose probe Trump continues to dismiss as a "rigged witch hunt."
Brennan fires back: Trump collusion denials "hogwash"
Brennan, an outspoken Trump critic, quickly shot back at the president.
In a New York Times op-ed Thursday, the former CIA director accused Trump of attempting to silence critics in an effort to "protect himself and those close to him."
He also wrote that Trump's oft-repeated refrain that there was "no collusion" is "hogwash." The Trump campaign colluded with the Kremlin, Brennan suggested in the op-ed, and the "only questions that remain are whether the collusion that took place constituted criminally liable conspiracy, whether obstruction of justice occurred to cover up any collusion or conspiracy, and how many members of 'Trump Incorporated' attempted to defraud the government by laundering and concealing the movement of money into their pockets."
It was a remarkable assertion by the former CIA director, who was defended by numerous other prominent members of the U.S. intelligence community against Trump's attack.
"[Brennan] is a man of unparalleled integrity, whose honesty and character have never been in question, except by those who don't know him," Admiral William H. McRaven, who oversaw the raid that killed 9/11 mastermind Osama bin Laden, wrote in the Washington Post Thursday. "Therefore, I would consider it an honor if you would revoke my security clearance as well, so I can add my name to the list of men and women who have spoken up against your presidency."
Trump continues to lash out at investigators
Nevertheless, Trump continued to lash out against the Russia investigation, continuing to claim that not only is he innocent of wrongdoing, but that it is actually the Democrats who colluded with the Russians.
He also maintained that Mueller, who is leading the inquiry into possible collusion between the Trump campaign and the Kremlin, is biased against him.
"Mr. Mueller is highly conflicted," Trump claimed in comments to reporters outside the White House on Friday. "But let him write his report. We did nothing. There's no collusion."
Rudy Giuliani, his attorney, has also continued to demand that Mueller wrap up his investigation well ahead of November's midterm election.
"Time for Mueller investigation to file report," Giuliani tweeted Saturday. "Don't interfere with election like Comey. The president had nothing to do with Russians. He didn't obstruct an investigation."
Manafort case goes to the jury
Trump's attacks on the Russia investigation came as a jury in Virginia continued deliberations in the first trial of his former campaign manager.
Prosecutors rested their case against Manafort on Monday after calling more than two dozen witnesses, including his former deputy Rick Gates, to the stand over the course of 10 days. The defense rested Tuesday without calling a witness.
The prosecution hammered Manafort over the "lies on his tax returns and lies to bank after bank after bank," and told jurors during closing arguments this week that the "evidence in this case is overwhelming." The defense, meanwhile, said the government hadn't met its burden of proof.
The jury — six men and six women — began deliberations Thursday in what has been seen as one of the biggest tests for Mueller so far in the Russia probe.
At the end of the day Thursday, jurors submitted four questions to Judge T.S. Ellis, including one asking him to redefine the term "reasonable doubt." Ellis replied that jurors need not eliminate all "possible doubt" to convict Manafort, but that "doubt based on reason" would be reason to find the former Trump campaign chairman not guilty.
The jury began its second day of deliberations Friday, but asked Ellis to dismiss them by the early evening, at least in part because one of the jurors reportedly had an "event" to attend.
The jury will reconvene Monday.
Manafort is facing 18 bank and financial charges in the first of his two trials, and could be sentenced to more than 300 years in prison if he is convicted on all counts.
He is facing another round of charges — including some related to his work on behalf of pro-Russian interests in Ukraine — at a second trial in Washington, D.C., next month.
Trump, who has mostly attempted to distance himself from his former campaign manager, offered a full-throated defense of Manafort in off-the-cuff remarks to reporters before departing the White House on Friday.
Describing him as a "good person," Trump said it was "very sad what they've done to Paul Manafort."
"I think the whole Manafort trial is very sad, when you look at what's going on there," Trump said. "I think it's a very sad day for our country."
Omarosa drops more Trump bombshells
All this played out against the backdrop of the ongoing feud between Trump and Omarosa Manigault Newman — the reality television star he brought with him to the White House until her acrimonious firing last winter.
The most explosive claims she's made during her media blitz promoting Unhinged, her White House tell-all, have surrounded alleged recordings of Trump using the N-word on the set of The Apprentice — the reality show Trump hosted and Omarosa rose to fame on.
But she also made a significant accusation against Trump this week related to the Russia investigation.
During an appearance on MSNBC Tueday, Katy Tur asked Omarosa if Trump had prior knowledge of stolen emails from the Clinton campaign and the Democratic Party that WikiLeaks would release during the 2016 campaign.
"Absolutely," Omarosa replied.
It's a bombshell claim, and one that would seem to further suggest that Trump and his campaign coordinated with Russia in 2016.
But, like Trump, Omarosa has a major credibility problem, and it's not clear how much weight to give to the reality star's accusations.
While she, like the president and so many others in his orbit, is something of an unreliable narrator, Omarosa has notably been able to produce tapes that provide some support for several of her claims, including a recording of a conversation she and other Trump aides had about the N-word tape in which former spokesperson Katrina Pierson seemed to confirm its existence.
"He said it," Pierson is heard saying in the recorded conversation. "He is embarrassed by it."
McGahn has been a "key witness" in obstruction probe
Don McGahn — the White House counsel who reportedly refused to follow Trump's order last year to dismiss Mueller — has been cooperating "extensively" with the special counsel's team over the last nine months, according to the Times.
Sources told the Times that the White House counsel has shared "detailed accounts" of key episodes related to the FBI's inquiry into possible obstruction of justice on the part of the president over at least three interviews in the last nine months.
He has met with investigators for about 30 hours, according to the report, and has provided information regarding the 2017 firing of Comey, Trump's apparent demands of loyalty from those leading the investigation and his calls for Attorney General Jeff Sessions to protect him and end the probe.
Trump reportedly directed McGahn to have deputy attorney general Rod Rosenstein fire Mueller in the summer of 2017, soon after he assumed control of the Russia probe, but the White House counsel threatened to resign rather than comply. Trump backed down.
That episode, too, has seemingly been of interest to Mueller.
It's not clear if McGahn's cooperation with Mueller has strained his relationship with Trump, but according to Maggie Haberman, who co-authored the Times report Saturday, the president and those close to him may not have been fully aware of the extent to which he's been cooperating.
"Trump allies for months questioned veracity of our reporting on what McGahn told Mueller about Trump telling McGahn to have Rosenstein fire Mueller," Haberman tweeted. "He's been a key witness, and WH didn't understand extent of it."