Trump defends free speech — by claiming social media is "discriminating" against conservatives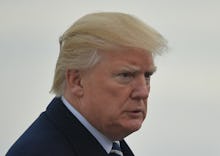 President Donald Trump on Saturday claimed that social media companies are "closing down the opinions" of conservatives, suggesting in a series of tweets that banning or suspending users like Alex Jones amounts to "censorship."
"Social Media is totally discriminating against Republican/Conservative voices," Trump tweeted Saturday morning. "Speaking loudly and clearly for the Trump Administration, we won't let that happen."
"Too many voices are being destroyed, some good & some bad, and that cannot be allowed to happen," Trump added.
Trump's Twitter rant came just a few days after Twitter suspended Jones, founder of the right-wing conspiracy theory website InfoWars.
Facebook, YouTube and other platforms have recently moved to ban Jones and InfoWars for promoting harassment and hate speech.
Jones has promoted a number of outlandish conspiracy theories, including a particularly controversial false claim that the 2012 shooting at Sandy Hook Elementary School in Newtown, Connecticut, which left 20 children and six employees dead, was a hoax.
Victims' families — some of whom are suing Jones — have said the conspiracy theorists' claims have resulted in harassment from his followers.
But Trump, who has appeared on Jones' radio program and said in 2015 that the conspiracy theorist was "amazing," said Saturday that social media platforms should "let everybody participate."
While he didn't mention Jones by name Saturday, he lashed out at the sites for "closing down" conservative voices while "doing nothing to others."
"Censorship is a very dangerous thing & absolutely impossible to police," Trump tweeted. "If you are weeding out Fake News, there is nothing so Fake as CNN & MSNBC, & yet I do not ask that their sick behavior be removed. I get used to it and watch with a grain of salt, or don't watch at all."
Republicans have previously charged that Facebook and Twitter, which Trump uses frequently, "operate in liberal corporate cultures" and are biased against conservatives. Rep. Kevin McCarthy (R-Calif.) and other Republican leaders met with representatives from Facebook earlier this summer to discuss the so-called "conservative censorship."
Trump's complaints about "censorship" on social media come just days after more than 300 newspapers across the country published editorials condemning his repeated attacks on the media, with publications charging that the president is attempting to stifle criticism with his relentless broadsides.
"The greatness of America is dependent on the role of a free press to speak the truth to the powerful," the Boston Globe, which led the coordinated response to Trump's rhetoric, wrote in its editorial Wednesday. "To label the press 'the enemy of the people' is as un-American as it is dangerous to the civic compact we have shared for more than two centuries."