Mueller recommends jail time for ex-Trump campaign aide, George Papadopoulos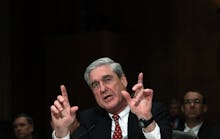 Simona Mangiante — the wife of former Trump campaign aide George Papadopoulos — is calling for her husband to scrap the plea deal he cut with special counsel Robert Mueller, who on Friday recommended a six-month prison sentence for the ex-foreign policy adviser.
"I don't want him to be the sacrificial lamb of the witch hunt," Mangiante told Fox News' Tucker Carlson on Friday, "and there are many exculpatory evidences, so many people fitting in the same shady pattern of behavior."
"Is your husband going to withdraw the plea deal?" Carlson asked Mangiante.
"That's my suggestion," she said, adding that she is unsure what her husband will ultimately do.
Papadopoulos, 31, is the former Trump campaign foreign policy adviser who pleaded guilty last October to making false statements to investigators — the first person to be charged in the investigation into possible collusion between the Trump campaign and the Kremlin, along with potential obstruction of justice on the part of the president.
He had lied to investigators in a January 2017 interview regarding his contacts with a professor who had "substantial connections to Russian government officials" and claimed to have "dirt" on Hillary Clinton, according to the special counsel.
President Donald Trump and his White House sought to distance themselves from him, with Sarah Huckabee Sanders telling reporters at the time that Papadopoulos played an "extremely limited" role on the campaign and the president dismissing him in a tweet last year as a "young, low level volunteer named George" who was unknown to most members of his team.
But that doesn't appear to be true.
Papadopoulos was later found to have represented the campaign on several occasions and had told top campaign officials, including Trump himself, about his relationship-building efforts with Russia.
Trump "listened with interest" as the aide brought up the possibility of connecting Trump and Putin during a March 2016 national security meeting, according to the New York Times, but the proposal was "vehemently" rejected by Jeff Sessions, who now serves as Trump's attorney general.
Papadopoulos was also in regular contact with top Trump aide Stephen Miller, reportedly keeping him updated on his contacts with Russia.
Trump has relentlessly railed against the Russia probe since 2016, falsely characterizing it as a politically motivated "witch hunt," a conspiracy concocted by Democrats and federal law enforcement officials to undermine his presidency.
But it was actually drunken comments Papadopoulos made to an Australian diplomat that triggered the Russia probe in the first place.
According to the Times, Papadopoulos told diplomat Alexander Downer at a London bar in May 2016 that Russia had damaging information about Clinton. Australian intelligence passed the information along to their American counterparts months later, after emails stolen from the Clinton campaign and the Democratic Party were released online.
Nevertheless, Mangiante claimed to Carlson that her husband had been targeted by Clinton allies in an effort to bring down Trump, echoing the president's conspiratorial rhetoric and his claims that the Mueller probe is a "witch hunt." She said Papadopoulos "absolutely" has a shot to win a court case against the special counsel's team.
Her remarks came as Mueller recommended that Papadopoulos be sentenced to six months in prison for telling lies that "negatively affected the FBI's Russia investigation."
He is scheduled to be sentenced Sept. 7.