Trump rails against 'New York Times' and compares Mueller to Joseph McCarthy in Sunday tweetstorm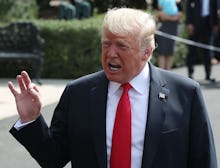 President Donald Trump took to Twitter Sunday morning to hit back against a recent New York Times article about White House Counsel Don McGahn and continue his complaints about the ongoing Mueller probe.
The New York Times reported Saturday that McGahn was participating in Robert Mueller's investigation into the Trump campaign's potential ties to Russia and providing an "unusual" amount of information about the president to the prosecutors.
According to the Times, McGahn is cooperating in the investigation — potentially to the president's detriment — to avoid being taken down by the investigation himself. McGahn is reportedly hoping that his participation will help him avoid the fate of Nixon-era White House Counsel John W. Dean, who pled guilty to obstruction of justice during the Watergate scandal.
Trump railed against the article Sunday morning, calling the "failing" New York Times "fake news" and claiming that he allowed McGahn and others to testify in the Mueller probe because the president has "nothing to hide."
"The failing @nytimes wrote a Fake piece today implying that because White House Councel [sic] Don McGahn was giving hours of testimony to the Special Councel [sic], he must be a John Dean type 'RAT,'" Trump tweeted. "But I allowed him and all others to testify — I didn't have to. I have nothing to hide ... and have demanded transparency so that this Rigged and Disgusting Witch Hunt can come to a close."
"The Failing New York Times wrote a story that made it seem like the White House Councel [sic] had TURNED on the President, when in fact it is just the opposite — & the two Fake reporters knew this," Trump added in a later tweet, going on to reiterate false claims that the media is the "enemy of the people" and allege other members of the media "called to complain and apologize" for the Times piece.
Trump also continued to complain about the Mueller probe Sunday, calling the investigation — which has so far resulted in more than 30 indictments and guilty pleas — a "rigged witch hunt" and claiming there was "no collusion and no obstruction." The president went on to compare Mueller to Sen. Joseph McCarthy, who led the '50s-era crusade against communism that resulted in many Americans being blacklisted for their suspected views.
"Study the late Joseph McCarthy, because we are now in period with Mueller and his gang that make Joseph McCarthy look like a baby!" Trump tweeted, claiming in another tweet that the Mueller probe was "McCarthyism at its WORST!"
Critics have pointed out the irony of Trump's decrying of McCarthyism — and the similarities between McCarthy and Trump himself. McCarthy's right hand man in his crusade against communism was lawyer Roy Cohn, who then went on to become Trump's own lawyer and mentor.
"Tough as he was, Roy [Cohn] always had a lot of friends, and I'm not embarrassed to say I was one," Trump wrote in the Art of the Deal, as quoted Sunday by CNN host Jake Tapper. "He was a truly loyal guy ... a great guy to have on your side."