John Bolton claims there's "concern" 3 countries besides Russia are meddling in elections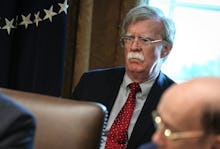 White House national security adviser John Bolton claimed Sunday foreign efforts to meddle in U.S. elections could extend beyond Russia.
In an interview on ABC's This Week, Bolton claimed there's "sufficient ... concern" China, Iran and North Korea could potentially also be meddling in American elections, including the upcoming November midterms.
"I can say definitively that it's a sufficient national security concern about Chinese meddling, Iranian meddling and North Korean meddling that we're taking steps to try to prevent it," Bolton said Sunday. This is in addition to the Russian meddling that is already known.
"I'm not going to get into the — what I've seen or haven't seen, but I'm telling you, looking at the 2018 election, those are the four countries that we're most concerned about," Bolton said when asked if he had seen anything specifically suggesting China has interfered in elections.
Bolton's comments echoed a tweet President Donald Trump sent Saturday in which he said the "fools" focused on Russia "should start also looking in another direction, China."
The president has previously used accusations of election interference from other countries as an attempt to deflect from the Russian election meddling that has already been definitively proven. In the wake of his widely criticized meeting with Russian President Vladimir Putin, Trump told reporters he "accepted" the intelligence community's conclusion the Russians interfered in the 2016 election, but then added, "Could be other people also. A lot of people out there."
Former White House Chief of Staff Reince Priebus has also brought up other countries' alleged election interference as a way to downplay the Russian election charges, claiming in an interview with Fox News in July 2017 that China and North Korea "consistently [meddled in U.S. elections] over many, many years." Experts cited by Politifact asserted there is no evidence to back up Priebus' statement.
"This notion that North Korea meddles in American elections is completely baseless," Mitchell Lerner, director of the Institute for Korean Studies at Ohio State University, told Politifact in July 2017.
In recent months, however, fears of Chinese interference have extended beyond the executive branch. Republican lawmakers introduced bills in the House and Senate in June that would commission a report on Chinese political influence operations, and 12 bipartisan senators sent a letter to the Trump administration in June pushing for a "comprehensive strategy" to fight back against China's interference in democracies around the world.