21 Savage wants to help kids save money, one bank account at a time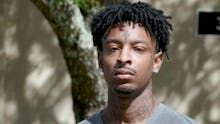 Rapper 21 Savage has gained a bit of mainstream success over the last year. His debut album, Issa Album, peaked at No. 2 on the Billboard 200 in 2017, and he just won a MTV Video Music Award for song of the year with Post Malone.
Savage, born Shayaa Bin Abraham-Joseph in Atlanta, came from humble beginnings. He dropped out of school in the ninth grade and left home while still a teenager. In 2015, he became well-known in Atlanta's music scene after he released his debut mixtape The Slaughter Tape. Two years later, the rapper had his first top 20 song with "Bank Account." In it, he talks about buying cars and taking trips to the mall, but he did face some obstacles when his earnings began to grow.
"I didn't know nothing about bank accounts until I was probably about 24," Savage, now 25, told Mic Dispatch. "I didn't know nothing. How to operate a bank account, how to use a card, nothing. So I feel like that set me back a little bit as far as getting my money in order and managing my money."
Savage's experience prompted him to start the 21 Savage Bank Account program in partnership with the nonprofit organization Get Schooled. The campaign provides digital resources to help teens learn how to open a bank account and create a budget, as well as other financial literacy tips. He also donated $1,000 to help 21 students nationwide open bank accounts.
A 2015 study found only 53% of 15-year-olds in the United States had a bank account. Students from socioeconomically advantaged backgrounds are six times more likely to have bank accounts than those who are disadvantaged. Further, teens who have bank accounts scored significantly higher in financial literacy than those who don't, according to the study.
Savage turned his lack of financial knowledge into a learning experience and now uses it as an opportunity to help others. When asked how others can get teens to take money issues more seriously, he said, "We need to start, like, introducing them to this type of stuff at younger ages so that by the time they're grown, they already got it down pat."