Hype Daily: The Asia Argento report, Kevin Spacey's film bombs and more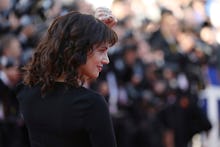 Welcome to Hype Daily, Mic's morning entertainment roundup. Here's everything you need to catch up on in the entertainment world and what to look forward to today. Want to receive this as a daily email in your inbox? Subscribe here.
Asia Argento reportedly paid $380,000 to a man who accused her of sexual assault
Italian actor and director Asia Argento, who publicly accused producer Harvey Weinstein of sexual assault and has been a prominent figure in the #MeToo movement, reportedly paid hundreds of thousands of dollars to a man who accused her of sexually assaulting him years earlier, the New York Times reported Sunday. The alleged assault took place in 2013, when the alleged victim, actor and musician Jimmy Bennett, was just 17 and Argento was 37.
According to the Times report, a month after Argento went public with her allegations against Weinstein in October, Bennett, through lawyers, sent a notice of his intent to sue Argento "for $3.5 million in damages for the intentional infliction of emotional distress, lost wages, assault and battery." They later settled on a payment of $380,000 to be paid out over a year and a half.
Kevin Spacey's new movie bombed at the box office
Alleged abuser Kevin Spacey's new movie did not do well at the box office this weekend. Spacey's Billionaire Boys Club, which also stars Ansel Elgort and Taron Egerton, opened in eight theaters Friday and made a whopping $126 on its opening day, the Hollywood Reporter reported Saturday. The next day, it made just $162. As the Hollywood Reporter pointed out, those numbers mean "fewer than six people showed up in each cinema." Yikes.
Back in June, the film's distributor announced it planned to release the movie despite the allegations against Spacey, saying in a statement, "We hope these distressing allegations pertaining to one person's behavior — that were not publicly known when the film was made almost 2 1/2 years ago and from someone who has a small, supporting role in Billionaire Boys Club — does not tarnish the release of the film." Hmm, looks like the film's release might have been tarnished.
Meanwhile, Crazy Rich Asians did great
While Kevin Spacey's new film flopped, the romantic comedy Crazy Rich Asians, which hit theaters last week, did well at the box office this weekend, earning about $25.2 million. As CNN reported, the movie exceeded box office expectations by millions. Crazy Rich Asians is the first major Hollywood release in years to star a predominantly Asian cast.
In an interview with Rolling Stone published Sunday, the film's lead, Constance Wu, spoke about the importance of onscreen representation and her hope Crazy Rich Asians will be a game-changing moment for the industry.
"We've stopped asking if Hollywood is ready," Wu said. "I think when you look at younger people, Generation Z, they're not asking for permission — they're creating their own kind of Hollywood. It's their lives and their stories. So when Gen Z comes up and there's some kind of icon in that generation, and they create their own content without needing permission, that's when I will be like, Yeah guys, fuck, we made it, this is awesome! And it's starting already."
Winona Ryder and Keanu Reeves might accidentally be married
Winona forever, am I right? While doing press for her new movie Destination Wedding, which stars Winona Ryder and Keanu Reeves, Ryder told Entertainment Weekly she thinks the two of them might have accidentally gotten married years earlier, in 1992 on the set of Bram Stoker's Dracula.
"We actually got married in Dracula. No, I swear to god I think we're married in real life," Ryder said. "In that scene, Francis [Ford Coppola] used a real Romanian priest ... We shot the master and he did the whole thing. So I think we're married." It's not clear if Ryder is joking, but if they're actually married it's been more than 25 years, so congrats, kids!
Put this on your radar: Barack Obama's reading list
In a Facebook post Sunday, former President Barack Obama (remember him?) shared his summer reading list, saying he's taken the slow summer months as a chance to dive into some good books. Obama listed five titles, including Tayari Jones' novel An American Marriage and Tara Westover's memoir Educated. Check out the full list here.