'Insecure' season 3, episode 2: Meet the artists behind the songs in "Familiar-Like"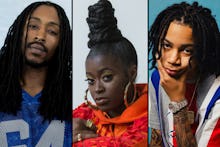 There are so many things to appreciate about Issa Rae's Insecure. The stars! The storytelling! The cinematography! The clothes! The jokes!
The HBO series is known for its celebration of good music — rap, funk and soul are all regular presences and come from newcomers and chart-toppers alike.
To keep up with the music each week for the third season, Mic will compile a list of songs after each episode airs. The second episode of season three notably featured R&B outfit The Internet, but these weekly lists will focus on lesser-known artists you might not know yet. So let's get to it.
"Move Too Fast" by Iman Omari feat. Anna Wise
Iman Omari is a singer and producer based out of Inglewood, California, who has provided beats to fellow Los Angeles natives like Kendrick Lamar, Ty Dolla $ign and more. And the California love continues with Insecure season three: Issa Rae, another Angeleno, included Omari's "Move Too Fast," featuring Grammy-winning R&B singer Anna Wise, in Sunday night's episode. Vibe to this track and more of Omari's soulful sounds on his latest opus, IHY, released in October.
"Like a Hoe" by Brenmar feat. Doley Bernays, EMP DASME and Junglepussy
Brenmar's "Like a Hoe," a bass-heavy turn-up anthem from his 2014 High End Times Vol. 1 mixtape, opens the latest installment of Insecure. The DJ-producer Brenmar began working on the record with a fellow Chicagoan, rapper EMP DASME, and realized it was missing something. "We started 'Like a Ho' together," he told Thump in 2014. "And I immediately thought we needed a girl to help balance out the energy in the song." New York City emcee Junglepussy was the key — and he also added rapper Doley Bernays as a finishing touch.
"Coco Miyaki" by Opal feat. Sunny Moonshine
In December, Virginia-based singer Opal told Pigeons and Planes her track "Coco Miyaki," featuring fellow Virginia singer Sunny Moonshine, is all about her "addiction to adrenaline" and possesses "very feminine, but slightly masculine" energies. On the bouncy standalone single, Opal and Moonshine deliver confident and carefree bars that instantly warrant a replay. If you appreciate this track, look out for what Opal's got in store: She told Pigeons and Planes in December she is working on a new project.
"Pretty Ugly" by Tierra Whack
Rapper Tierra Whack is one of the most exciting new names in music. So it's no surprise that her piano-led bop "Pretty Ugly" ended up on the new season of Insecure. After getting acquainted with this tune, get lost in the rest of Whack World, the title of her debut album, released in May. Everything about it is peculiar, down to the format: It features 15 one-minute songs and comes with a fanciful visual to match. Whack's a newcomer, but she's already setting her own rules and reaping the love for it.
"You Can Tell"by Derrius Logan
Derrius Logan's "You Can Tell" is a trap confessional about the desire to get back with an old flame. The complicated, relationship-focused lyrics go right along with the issues facing the main characters of Insecure. Fans of the show also likely heard the Los Angeles-based rapper and producer's "Bring It Back," on season two's soundtrack.
"Rubbin' Off the Paint" by YBN Nahmir
When Birmingham, Alabama, rapper YBN Nahmir came across the beat for his 2017 hit "Rubbin Off the Paint" on YouTube, he knew it was the one. "I found it and went crazy," he told Genius in November. Although he's from the south, Nahmir models his rap style after Bay Area hip-hop, he told Fader in October. The 18-year-old — who used to freestyle for fun in Xbox Live parties — is also the founder of the online gamer-turned-rap crew YBN, which includes YBN Cordae and YBN Almighty Jay.
"Slip Away" by Ill Camille feat. Amaru
"Slip Away" is a jazzy, reflective exploration of relationships gone awry from Ill Camille's Heirloom, released in March 2017. HipHopDX deemed the album "a celebration of Ill Camille's obstacles, evolution and overall hope for her musical gift to affect society." Camille is a regular part of the Los Angeles hip-hop sphere, having worked closely with Kendrick Lamar and his label mate Sir, among others. She also filmed a lovely NPR Tiny Desk concert in May that's worth checking out, so get familiar.