Today in Trump's America: Trump rages against Mueller probe as feds zero in on Michael Cohen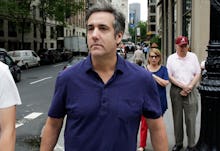 Welcome to Mic's daily read on Donald Trump's America. Want to receive this as a daily email in your inbox? Subscribe here.
Good morning from Emily Singer at Mic.
Check out Mic Dispatch, Mic's new show reporting on the problem-solvers and the provocateurs in our changing world. Subscribe here for alerts on new episodes airing Tuesdays and Thursdays at 8 p.m. Eastern on Facebook Watch.
Here's what's happening in Trump's America:
• Trump's day doesn't begin until 12:45 p.m., when he will have lunch with Vice President Mike Pence.
About the weekend: Former Trump lawyer Michael Cohen could be charged within two weeks
Federal investigators are nearing the end of their probe into Trump's longtime personal lawyer and "fixer" Michael Cohen. They could file charges against him within the next two weeks, the New York Times reported Sunday.
Cohen is being investigated on allegations he committed bank and tax fraud on more than $20 million in loans, according to the New York Times' report — similar to the charges Trump's former campaign chairman Paul Manafort is currently facing. Those loans relate to a taxi business Cohen owns with his family.
Cohen is also being investigated for potentially violating campaign finance laws in the final days of the 2016 presidential election after arranging payments to multiple women who claimed to have had affairs with Trump. Those charges, if filed, could draw Trump into criminal proceedings.
The Times reported Cohen may plead guilty before an indictment is filed in exchange for his cooperation in special counsel Robert Mueller's investigation — which could again open Trump up to liability should Cohen have damning information on Trump's possible ties to Russia during the 2016 campaign.
The Times also reported over the weekend White House counsel Don McGahn has sat for extensive interviews with Mueller's team in the earlier days of the Mueller investigation. McGahn reportedly gave details into Mueller's investigators about whether Trump obstructed justice in the probe.
At that time, Trump had a different legal team whose strategy was to cooperate with Mueller's investigators. However, the president's new legal team — which includes combative former New York City Mayor Rudy Giuliani — now realizes they do not know all of what McGahn told investigators, setting off worry in Trump-world, the Times reported.
The news sent Trump into a fury on Twitter.
He claimed the Times' reporting was "fake," and he likened Mueller to Sen. Joseph McCarthy — who crusaded against communism in the 1950s and blacklisted and arrested Americans, often without any evidence.
And on Monday, Trump questioned why Mueller's team would interview McGahn for so long.
"Disgraced and discredited Bob Mueller and his whole group of Angry Democrat Thugs spent over 30 hours with the White House Councel [sic], only with my approval, for purposes of transparency," Trump tweeted. "Anybody needing that much time when they know there is no Russian Collusion is just someone looking for trouble."
Today in Trump's America: Manafort jury deliberates for a third day
Another circus is likely at the federal courthouse in Alexandria, Virginia, as the jury in the trial against former Trump campaign chairman Paul Manafort meets for a third day of deliberations.
So far, the jury has spent two days behind closed doors deliberating on whether it believes prosecutors proved beyond a reasonable doubt Manafort committed numerous counts of bank fraud and tax evasion.
The media went into a brief frenzy Friday afternoon when the jury submitted a note to Judge T.S. Ellis asking if they could leave by 5 p.m. because one of the jurors had an event to go to. It was the only peep the jury made since Thursday when it submitted a note to the judge with four questions, including asking him to clarify "reasonable doubt."
With almost no information from the jury, analysts are trying to glean anything they can from the questions and have analyzed the amount of time the jury has spent deliberating to predict whether Manafort will be convicted or acquitted.
But that's a futile endeavor, given the number and complexity of the charges jurors are deliberating on. There have been criminal defendants convicted after two hours of deliberation but also after days — so it's impossible to truly say what the jury may do.
Instead, the media will be forced into another day of trying to make news where none really exists yet.
And the rest…
"Truth isn't truth": In yet more evidence 2018 is mirroring a real-life version of George Orwell's dystopian novel 1984, Trump lawyer Rudy Giulani went on NBC's Meet the Press on Sunday to declare that "truth isn't truth."
Giuliani's attempt to tell Americans not to believe objective facts staring them in the face follow Trump's comments from July when he told a group of veterans "what you're seeing and what you're reading is not what's happening."
The comments have been directly compared to Orwell's novel in which the government squashes opposition by using propaganda that tells the public to believe the opposite of what is actually happening.
"Today, Giuliani added to Orwell's liturgy: War is Peace. Slavery is Freedom. Ignorance is Strength. Truth isn't Truth," Democratic Rep. Adam Schiff tweeted.
Giuliani tried to clarify his comment in a Monday morning tweet.
"My statement was not meant as a pontification on moral theology but one referring to the situation where two people make precisely contradictory statements, the classic 'he said, she said' puzzle," Giuliani tweeted. "Sometimes further inquiry can reveal the truth other times it doesn't."