Trump spews falsehoods about Mueller probe in morning Twitter rant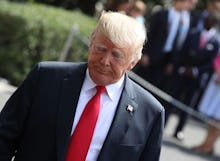 President Donald Trump went on another Twitter rant against special counsel Robert Mueller on Monday, tweeting that Mueller's team falsely accused him of colluding with Russia and claiming that the team knows there is no collusion and is simply "looking for trouble."
Trump's rant comes amid reports that Mueller's team spent 30 hours interviewing White House counsel Don McGahn, which Trump claimed is proof that Mueller's team has no evidence.
"Disgraced and discredited Bob Mueller and his whole group of Angry Democrat Thugs spent over 30 hours with the White House Councel, only with my approval, for purposes of transparency," Trump tweeted. "Anybody needing that much time when they know there is no Russian Collusion is just someone looking for trouble."
Trump went on to call Mueller and his investigation a "national disgrace."
Of course, investigators spending hours over a number of days with a potential witness doesn't mean that investigators have nothing. In fact, it could mean that McGahn had a lot of information that the investigators needed to probe.
In any event, the New York Times reported that Trump's legal team is worried about what McGahn may have told investigators, and has realized they don't know the entirety of what McGahn spoke about. The Times reported that Mueller's team asked McGahn about incidents surrounding their obstruction of justice probe into Trump's behavior.
"Where's the Collusion?" Trump tweeted. "They made up a phony crime called collusion, and when there was no Collusion they said there was obstruction (of a phone crime that never existed)."
Of course, "collusion" is not a legal term. Instead, the legal term for "collusion" is conspiracy — which is a crime that could impact some of Trump's closest family members and aides, who are being investigated to see if they knew about and aided in Russia's attempts to influence the 2016 campaign.
Mueller's team has not yet released its findings about whether any conspiracy or obstruction of justice has occurred.
In fact, Trump's legal team has for months been delaying a Mueller interview with Trump, which may force the investigation past the midterm elections — something Trump lawyer Rudy Giuliani suggested could be a good thing for Republicans' electoral hopes in November.
Trump's tweet storm appears to be another instance in which he's parroting things he heard on Fox & Friends, Fox News' morning news show that features Trump-supporting hosts who both defend Trump's behavior and apparently give him a blueprint for how to respond to the scandal du jour.
According to Media Matters' Matthew Gertz, Fox & Friends' Brian Kilmeade said at 7:08 a.m., "When you talk about 30 hours and three separate interviews, what the heck is he talking at that length for that many times with Robert Mueller for?"
Twenty minutes later, Trump's Twitter rant about the length of time Mueller spent with McGahn began.