Here are the Democratic senators who are meeting with Brett Kavanaugh ahead of his confirmation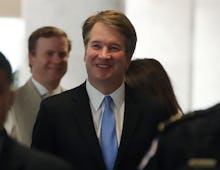 Democratic senators are facing an uphill climb over their resistance to U.S. Supreme Court nominee Brett Kavanaugh, and as his confirmation approaches, some are finally giving in and meeting with the judge.
After initially refusing to meet with Kavanaugh until his full documents are released — which now seems unlikely to happen before Kavanaugh's Senate hearing begins Sept. 4 — some Democratic senators are now scheduling meetings with the conservative nominee, whose place on the Supreme Court could have major implications for abortion rights, civil rights, health care and more.
Four Democratic Senators on the Judiciary Committee — Sens. Patrick J. Leahy, Christopher A. Coons, Amy Klobuchar and Sheldon Whitehouse — have scheduled one-on-one meetings with Kavanaugh before they question him during the Senate confirmation process, the Washington Post reported.
Kavanaugh is also expected to meet with the committee's ranking Democrat, Sen. Dianne Feinstein, and Senate Minority Leader Chuck Schumer on Monday and Tuesday, respectively. The two, however, are likely to focus their meetings with Kavanaugh on pressing him about his documents; Democrats have argued the judge's full records from his time in the George W. Bush administration must be released ahead of his confirmation — and may potentially take legal action to make sure that happens.
Other Democrats opposed to Kavanaugh could also meet with the nominee before lawmakers leave town Aug. 23. Lawmakers are expected to ask Kavanaugh about his documents, though one Democratic aide told Politico they will also likely discuss "health care, women's freedom, presidential power and other issues."
"I may well meet with him, partly or largely out of a desire — or out of an objective — to enlist his help in this document production," Sen. Richard Blumenthal (D-Conn.) told the Washington Post Tuesday. "My question to him is, why are they concealing these documents? ... What are they trying to hide?"
Some senators are scheduling meetings with Kavanaugh with more of an open mind, as red-state Democrats make up their mind about the nominee — and potentially break with their party to give Kavanaugh the deciding Senate votes he needs to be confirmed. Sens. Joe Manchin (D-W.Va.), Joe Donnelly (D-Ind.) and Heidi Heitkamp (D-N.D.) have already met with Kavanaugh over the past few weeks. All three are facing re-election this November and were previously the only Democratic senators who voted to confirm Justice Neil Gorsuch.
"Judge Kavanuagh and I had a thorough and substantive discussion about the importance of the rule of law, precedent, ethical standards at the U.S. Supreme Court, reaching more consensus on the Court, and avoiding activism from the bench so the Court is shielded from politics," Heitkamp said in a statement following her meeting. "I learned more about his judicial record and temperament – which will also hopefully become clearer during his Senate hearing in the Senate Judiciary Committee."
Donnelly and Manchin also signaled that they would make up their mind on Kavanaugh following his Senate hearing; Manchin said the two had a "very productive" meeting, but he would meet with Kavanaugh again after his Senate hearing.
Sen. Claire McCaskill (D-M.O.) will become the next red-state senator facing re-election to meet with Kavanaugh on Tuesday, and Montana Sen. Jon Tester is expected to meet with Kavanaugh soon as well.
"People say, oh, she's trying to figure out how to vote, it will help her in the election," McCaskill said during a recent campaign stop, as quoted by the Wall Street Journal. "I don't believe there really is one side that is better than the other 'politically.' So in a way it's kind of a blessing, it frees me up to do the right thing."