Rudy Giuliani walks back "truth isn't truth" comment after 'Meet the Press' interview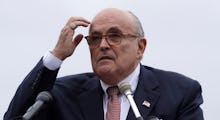 Less than 24 hours after Rudy Giuliani declared "truth isn't truth" on national television during a Sunday appearance on NBC's Meet the Press, he took to Twitter to attempt to clarify his comments.
"My statement was not meant as a pontification on moral theology but one referring to the situation where two people make precisely contradictory statements, the classic 'he said, she said' puzzle," Giuliani tweeted. "Sometimes further inquiry can reveal the truth other times it doesn't."
During his Meet the Press appearance, Giuliani sparred with anchor Chuck Todd over whether or not the president should sit for an interview with special counsel Robert Mueller, who is currently investigating Russia's role in the 2016 presidential election.
Although Trump has insisted he would cooperate with Mueller and field questions from his team of investigators, the president's own legal counsel has reportedly been less keen on the idea.
"When you tell me that, you know, he should testify because he's going to tell the truth and he shouldn't worry, well, that's so silly because it's somebody's version of the truth. Not the truth," Giuliani said Sunday.
"Truth is truth," Todd replied, to which Giuliani interjected, "No, no, it isn't truth. Truth isn't truth."
Todd presciently observed the comment was destined to become a "bad meme" and, sure enough, within hours, Giuliani's words had gone the way of Kellyanne Conway's "alternative facts" gaffe from 2017 — which she also happened to let slip during a segment on Meet the Press.