Who got duped in episode 6 of 'Who Is America?' and what have they got to say for themselves?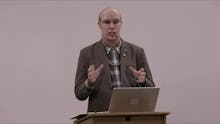 The sixth episode of Sacha Baron Cohen's Who Is America? aired on Sunday night, and, yet again, Cohen donned various disguises for a series of hard-to-watch interviews. Like past episodes, this week's segments seemed designed to either make the guests intensely uncomfortable or to embolden them to say horrible things. Or both.
So how did this latest round of guests react when they were informed that their host was actually Sacha Baron Cohen? Let's examine who got duped in this newest episode of Who Is America? and what, if anything, they had to say about it.
Jill Stein
The first portion of Sunday night's episode catches Cohen in character as the Alex Jones-esque Billy Wayne Ruddick Jr., interviewing former Green Party presidential candidate Jill Stein. In the segment, Ruddick peppers Stein with questions about "climax change" — specifically whether or not it exists.
She patiently explains that the chart he's citing, which shows temperatures going up and down over the course of a year, is actually measuring seasons, not climate change. And Stein is also patient when Ruddick says he believes hurricanes are caused by helicopters.
For a woman who has entertained anti-vaxxers, Stein came out of Sunday night's segment looking pretty reasonable. So what did she have to say about her appearance on the show? Well, that's another story. On Monday, Stein responded to the episode with a "prank" of her own, tweeting out what seems to be a joke still from her appearance on the show and announcing that Ruddick "agreed we need a #GreenNewDeal." She sure got him back!
Howard Dean
Again appearing as Billy Wayne Ruddick Jr., Cohen nabbed an interview with former presidential candidate and former Vermont Governor Howard Dean. For this bit, Ruddick asks Dean about former Secretary of State Hillary Clinton, showing Dean fake photos that seem to indicate Clinton has a penis (a transphobic, distasteful and altogether unnecessary "joke"). The whole thing is entirely unpleasant to watch, especially since Dean mostly just shrugs in response to Ruddick's "fake news."
In a statement to the Washington Post on Monday, Dean said that when he filmed the interview with Ruddick, he believed it was for a "series which matched liberals with Trump supporters to see if we could find common ground."
"I won't comment on the content," Dean told the Post. "It was a farce and farce doesn't merit comment. I do think it hurts the credibility of CBS, the owners of Showtime. Interviewing folks by lying to them is not good news practice."
Gretchen Rossi and Slade Smiley
Cohen looks to particularly relish going after fame-hungry reality television stars, and on Sunday night's episode of Who Is America? he meets with Gretchen Rossi and Slade Smiley of the Real Housewives franchise. Cohen is in character as Israeli "terrorism expert" Eran Morrad, whose unibrow might be getting continually darker every episode. The segment, ostensibly about how to survive a home invasion, turns into Morrad emasculating and insulting Smiley while not-so-subtly hitting on Rossi.
Rossi first revealed she had been pranked by Cohen back in February, when she told Page Six, "We got punked so bad by Sacha Baron Cohen." Rossi told the outlet that she believed they were filming a segment on "security and protecting yourself as an American celebrity."
"The second we walk through the door there's two Mossad agents holding guns to each other's heads," Rossi said. "They punked us for four-and-a-half hours! You would not believe the stuff they were asking us to do — the weirdest, creepiest, funniest stuff, but at the time it wasn't funny. We literally thought they were going to kill Slade!"
While Rossi said she was "crying" and "hysterical" after the encounter with Cohen, she looks to be taking the fact that it was all a joke in stride. "He needs to win an Oscar for his performance," she told Page Six. (If Cohen were going to win any kind of award for Who Is America?, it would be an Emmy, but that's beside the point.)
Ataana Badilli
It feels like each episode of Who Is America? has at least one segment that's so gross-out, painfully uncomfortable to watch that it just isn't worth it — and this was definitely it for Sunday night's episode. It features Cohen in-character as Dr. Nira Cain-N'Degeocello, a send-up of a Hillary-loving liberal, who turns to "spiritual healer" Ataana Badilli to help support him as he "births" a fake baby from a prosthetic butt. When the doll's head is lost inside said butt, Badilli eventually bows out of the segment, so we can assume he was relieved to find out that Cain-N'Degeocello was actually Cohen in disguise.
It looks as though Badilli has both a Facebook and a Twitter presence, but those accounts haven't made any recent statements about his appearance on Who Is America? There are a lot of posts about crystals, though.
Francis Collins
Cohen's Billy Wayne Ruddick Jr. returns for a third time in this episode to interview National Institutes of Health director Francis Collins. Yet again, Ruddick spouts conspiracy theories about trans fats making people transgender and brings up the possibility that AIDS isn't real. Collins, for his part, politely refutes Ruddick's bizarre theories.
Collins does have a verified Twitter account, but he doesn't seem to have used it to comment on his Who Is America? appearance on Sunday. Instead he mostly tweets about actual science and medicine.
Bill Jilla
In what was perhaps the most horrifying appearance of episode six, food critic Bill Jilla, of something called DinnerReviews.com, joined Cohen, who was in character Rick Sherman, recently released from prison and now an aspiring chef (in this episode at least). Jilla, embarrassingly, fawns over Sherman's dishes, which are progressively more outrageous; he serves Jilla beans on toast, then veal stuffed inside a strawberry-flavored condom, and then eventually "human meat." Sherman tells Jilla he is eating flesh from a "Chinese dissident," and, instead of being alarmed or repulsed, Jilla can't stop talking about how the meat melts in his mouth.
It doesn't seem as though Jilla, who was skewered on social media after his Sunday night appearance, has made a public statement — but DinnerReviews.com appeared to have been taken offline as of Monday afternoon.
Jan Brewer
In a brief, mid-credits scene, Cohen appears as the grating YouTube unboxer OMGWhizzBoyOMG, interviewing former Arizona governor and Trump surrogate Jan Brewer. In the short segment, Brewer tells a tiny plastic toy that he can buy a machine gun even though he wants to "ethnically cleanse all the limited-edition Shopkins."
As the Arizona Republic reported on Sunday, Cohen seems to have a particular fondness for the state of Arizona, considering that he also went after Joe Arpaio and the entire town of Kingman. But Brewer doesn't appear to have spoken out about her bizarre turn on the show, or defended her position that fascist toys should have access to machine guns.