An architectural excursion across Chicago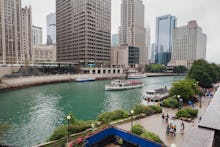 The City That Works is filled with eye-catching destinations that are imbued with history.
No matter how many times you visit the Windy City, there always seems to be something you just missed and need to come back for: rocks left unturned, hole in the wall restaurants left undiscovered, secrets of the city left untold.
It's easy for Chicago to seem overwhelming; it is the third most populous city in America, behind New York and Los Angeles, respectively, and it touts one of the most diverse and balanced economies in the United States, with no single industry employing more than 12% of its workforce. Since its earliest days and up until now, the city has always been seen as a destination: for tech companies and manufacturing plants, business leaders and house music DJs, top rated universities and craft beer snobs, sports aficionados and design buffs. They come for the open spaces, the central location, the influx of goods, the skyscrapers and multi-flat greystones, the world renowned museums and meat loving bistros, the fabled record shops and vibrant summer music festivals, the city's storied history and its unwritten future.
Booking.com recently chose travel blogger Cameron Phillips to be their first official Chief Booking Officer, a unique position as a cultural influencer and real travel aficionado tasked with underscoring Booking.com's commitment to making every travel experience a memorable one. His second stop: The Second City, as Phillips went on to study its architecture, bask in its culture, and sample some of its cuisine, uncovering worldly gems that are unmistakably Chicagoan.
Frank Lloyd Wright's Emil Bach House
For this trip, Phillips stayed at Frank Lloyd Wright's Emil Bach House in the Rogers Park neighborhood of Chicago, an impressive and historic Wright creation and Chicago Landmark.
Dubbed The American Institute of Architect's "greatest American architect of all time," Frank Lloyd Wright's name is a cherished emblem of Chicago, and for good reason. Wright got his start working for the design firm Adler & Sullivan in Chicago and would go on to spend the first years of his career working in Chicago and its surrounding suburbs, being highly influenced by the city's landscape and architectural movements. Some of the works Wright completed in Chicago include the Frederick C. Robie House, the Unity Temple in Oak Park, and the Midway Gardens. Wright would even go on to meet his third wife, Olga Lazovich (known as Olgivanna), daughter of a Chief Justice of Montenegro, at a Petrograd Ballet performance in Chicago.
Yet the Emil Bach House could be considered Wright's crown jewel of Chicago. Erected in 1915 after Wright's return from a European reprieve, the Emil Bach House was built for the co-owner of the Bach Brick Company. The house best exemplifies Wright's late prairie style, a type of architecture which is noted for its long, low, open floor plans that emphasize horizontal lines and space, ala the prairie. For Wright, the style was meant to be "an indigenous American architecture" with the idea that, rather than having the architecture and landscape operate independently of one another, the landscape and the architecture would blend into one.
The house predates its surroundings, which at the time of construction meant unobstructed views of Lake Michigan, where Emil Bach would go swimming everyday to treat breathing problems. Today, it's still easy to imagine these strolls to the water when staying at the Bach House, catching the water peek through in between buildings. The house was fastidiously restored in 2013 and is the only remaining example of Wright's late prairie style still standing in Chicago. The house was recently complimented with a Japanese Tea House and garden, meant to pay homage to the Japanese influence found in Wright's work in the later part of his career. According to data provided by Booking.com, 28% of American travelers are passionate about interior design. For those with that design bug, the Emil Bach House represents an excellent, understated find.
The Skydeck at Willis Tower
A cab ride from the Emil Bach House takes Phillips to downtown Chicago, home of the venerable Willis Tower. The building, formerly known as the Sears Tower, is the second tallest building in the United States, at 1,450 feet and 110 stories off the ground. Opening in 1973, the tower took 2,000 workers to build over the course of 3 years.
Visitors can take an elevator up 103 floors and enter into glass boxes as a part of Willis Tower's Skydeck. The boxes jut out 4.3 feet from the edge of the building, forming the highest observation deck in the United States. For the height weary, entering these ledges could seem anxiety-inducing if not flat out impossible, but the day of Phillips's trip is overcast with low visibility, providing more of a moody backdrop of clouds, reminiscent of a lightbox. Without clouds, one is able to see up to 50 miles out in each direction, including views of greater Illinois, Indiana, Wisconsin, and Michigan.
Cloud Gate
Tucked within the bustling blocks of Millennium Park, sits Cloud Gate, or what most Chicagoans affectionately refer to as "The Bean." The first public work of Indian-born British artist Anish Kapoor installed in the U.S., Cloud Gate is a 110-ton elliptical sculpture made up of stainless steel plates that reflects Chicago's skyline, Millennium Park, and, most importantly, the hordes of tourists posed in front of it taking selfies.
MTH industries, the Chicago-based 120-year-old glass and architectural metal contractor who also installed the 1,500-pound glass panels for the Skydeck's Ledge, installed an incomplete version of Cloud Gate in Millennium Park in 2004. But even in its short existence, Cloud Gate has taken on the notoriety of a public work that has been around for decades, signaling the technological and artistic prowess of its home city to the world.
Chicago Architecture Foundation River Cruise
A brief walk from Cloud Gate finds you aboard one of Chicago's First Lady Cruises, where the Chicago Architecture Foundation gives guided river cruises that shed light on more than 50 buildings along the Chicago River. This tour is a real whirlwind as their CAF-certified volunteer docents explain to you how Chicago went from a small settlement to a metropolitan empire. Phillips passes famous Chicago landmarks such as the John Hancock Center, the Wrigley Building, the Aon Center and the AMA Plaza. Even under light rain, the tour was exceedingly enjoyable.
Kuma's Corner
Away from downtown, tucked in a block closer to Logan Square is the original Kuma's Corner, a metal-themed burger bar and bistro with an extreme selection of sandwiches. With burgers named after metal legends like Goatsnake, Mastodon, and Slayer, each burger reflects the music of its namesake while also serving as a reminder of Chicago's history as a beef capital.
On this trip, Phillips and company opted for selections like Neurosis (Cheddar, Swiss, caramelized onions, sautéed mushrooms, horseradish mayo, lettuce, tomato, and red onion on a burger patty), the Plague Bringer (crushed garlic, housemade hot sauce, Pepper Jack, jalapeños, tortilla strips, roasted garlic mayo, lettuce, tomato, and red onion on a burger), and the Led Zeppelin (Applewood smoked bacon, BBQ pulled pork, Cheddar, and pickles all atop a burger). Kuma's also touts a bar with local craft brewers and their own beer concoctions.
Dusty Groove
Chicago is a music capital, with everything from blues and jazz to house and footwork music calling the Chi its home. In the spirit of Chicago music discovery, Phillips ventured into one of the city's many music shops, Dusty Groove.
With an ample selection of hip-hop, jazz, funk, and soul records, Dusty Groove is a record seeker's oasis, with a basement full of dollar bins that is sure to surprise as much as delight even the most discerning of music explorer.
Gerber/Hart Library
Making his way back to the Edgewater neighborhood, Phillips stopped in the Gerber Hart Library and Archives, the largest circulating library of gay and lesbian titles in the Midwestern United States. With an active library, an art exhibit, and regular book fairs, the library provides a snapshot into Chicago's thriving LGBTQ+ scene, with works documenting the earliest days of the gay rights movement in Chicago to books and film including more contemporary erotica.
Lou Malnati's
And when one goes to Chicago, it would be rude not to sample the city's famed deep dish pizza. Depending on who you ask, everyone has a different favorite, such as the Moby Dick-themed Pequod's with its signature caramelized crust, Giordano's with its sauce coated minis stuffed to the brim with your favorite toppings. On this trip, Phillips settled down at none other than Lou Malnati's of Evanston, a short trip from the Emil Bach house.
This unpretentious Chicago-only pizza chain serves up Chicago's signature deep dish in its simplest but most essential form, which is altogether very crowd-pleasing. Eating at Malnati's feels like home, with hordes of kids being rushed in after victorious baseball games or families celebrating graduations at nearby Northwestern. Expertly crafted, it's no wonder why Lou Malnati's was dubbed the honor of Chicago's best pizza for multiple years in The Chicago Reader's annual poll.