Trump commends Hispanic-American border agent for "speaking perfect English"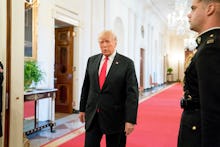 During a scheduled event to honor immigration enforcement officers at the White House on Monday afternoon, President Donald Trump praised a Hispanic Customs and Border Protection agent by offhandedly telling the assembled crowd that he "speaks perfect English."
The president's comment was first reported by NBC News White House correspondent Geoff Bennet, and quickly confirmed by an MSNBC chyron.
The remark came during a ceremony to honor around 150 CBP officers, Immigration and Customs Enforcement agents and other law enforcement officials that was held in the East Room of the White House on Monday.
Insinuating that English wasn't the first language of a Hispanic law enforcement agent wasn't the only gaffe during the honors. According to multiple reports from those present at the event, Trump repeatedly referred to the officer's agency — CBP — as "CBC," despite the presence of a teleprompter.
The presidential salute comes as the Trump administration continues to take heat for its widely condemned family separation policy, and as an increasingly loud coalition calls upon Congress to abolish ICE altogether.
On Aug. 17, the government released its most comprehensive data to date since it separated more than 2,600 immigrant parents and children in June. The numbers reveal that, despite a court order to reunify all of the families by July 26, at least 565 children — including 24 under the age of five — remain separated to date.