Mic Daily: Melania Trump calls for compassion on social media — and other top stories of the day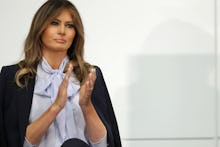 Welcome to Mic Daily: Mic's newsletter that cuts through the noise and lands in your inbox every weekday. We carefully curate each edition to send you a cross section of our most vital stories of the day. Want to receive this as a daily email in your inbox? Subscribe here.
Want more entertainment news in your inbox? Sign up for Hype Daily — Mic's morning entertainment roundup. It's got all the news you need to start your day.
As they seek to discredit special counsel Robert Mueller's investigation into Russian interference in the 2016 presidential election, President Donald Trump and his defenders have for months been claiming that collusion is not a crime. However, there's a major problem with their argument: Collusion is, in fact, a crime, according to legal experts. It just goes by another name — conspiracy.
First lady Melania Trump invoked the compassionate nature of her "Be Best" campaign during a summit on Monday, calling for an end to cyberbullying just moments before her husband unleashed his latest Twitter tirade.
"Let's face it, most children are more aware of the benefits and pitfalls of social media than some adults," Melania Trump said during her remarks, which were delivered as part of a Federal Partners in Bullying Prevention session held at the Health Resources and Services Administration. "It can be used in many positive ways, but can also be destructive and harmful when used incorrectly."
Hmm, sound like anyone you know, Melania?
The sixth episode of Sacha Baron Cohen's Who Is America? aired on Sunday night, and yet again, Cohen donned various disguises for a series of hard-to-watch interviews. Like past episodes, this week's segments seemed designed to either make the guests intensely uncomfortable or to embolden them to say horrible things. Or both.
Here were this week's roster of guests: former Green Party presidential candidate Jill Stein; former presidential candidate Howard Dean; Gretchen Rossi and Slade Smiley of the Real Housewives franchise; "spiritual healer" Ataana Badilli; National Institutes of Health director Francis Collins; food critic Bill Jilla; and former Arizona Gov. Jan Brewer.
Democratic senators are facing an uphill climb over their resistance to Supreme Court nominee Brett Kavanaugh, and as his confirmation approaches, some are finally giving in and meeting with the judge.
Every August, South Dakota's population grows by about 50% as half a million riders descend on its vast grasslands and craggy mountains for the Sturgis Motorcycle Rally, the world's largest motorcycle event. Part riding, part racing and part party, it's a celebration of American motorcycle culture.
Without women, the rally never would have grown to what it is — and more women participants will ensure there's a culture to rally around in decades to come.