MTV VMAs 2018: Logic and Ryan Tedder performed with immigrant activists to protest family separation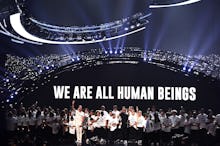 The 2018 MTV Video Music Awards sent a message early in its telecast Monday with a performance from rapper Logic and OneRepublic singer Ryan Tedder that took a stand against family separations at the border.
The musicians performed their song "One Day" and took the stage surrounded by children wearing shirts that read "We are all human beings." In the middle of the performance, an onstage wall lifted to unite the kids with family members on the other side — a show of support for children separated from their parents at the U.S.-Mexico border as a result of the Trump administration's hardline immigration policies.
The families who joined the singers onstage Monday night included immigrant activists from the National Domestic Workers Alliance, United We Dream and Make the Road New York. Some of them are currently experiencing family separation, like Jefferson Arpi, 15, a United We Dream youth leader whose father is currently being held in an immigrant detention camp.
"I'm so excited to have performed with Logic tonight," Arpi said in a statement. "It meant a lot to me to be able to represent my family because my dad, Manuel Arpi, is in a detention camp ... Even though our families face a lot of pain, we are strong, we are fighters and we are human."
The VMAs performance continued the theme of Logic's music video for "One Day," which premiered Friday and tells the story of an immigrant teenager separated from his family at the border.
"It is inspiring and powerful to see Logic share the stage with immigrants like me to show the real-life struggles we face," Lizbeth Huitzil, a Deferred Action for Childhood Arrivals recipient and a member of Make the Road New York, which helped organize the performance, said in a statement. "Our brothers and sisters are being detained, put in cages and separated from their families. With tonight's performance, we are sending a strong message: Families belong together and not in cages."
Hundreds of immigrant children are still separated from their parents as of Aug. 16, the Washington Post reported, despite a federal court order requiring the Trump administration to reunite all families by July 26.