Hype Daily: VMAs winners, Niecy Nash gets a late-night show and more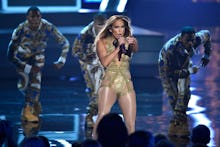 Welcome to Hype Daily, Mic's morning entertainment roundup. Here's everything you need to catch up on in the entertainment world and what to look forward to today. Want to receive this as a daily email in your inbox? Subscribe here.
The MTV Video Music Awards happened last night
The 2018 MTV Video Music Awards happened in New York City Monday night and, as with most years, the ceremony was a somewhat messy and a slightly too-long affair. Notable winners were Cardi B, who won for best new artist, and Camila Cabello, who won video of the year for "Havana."
Jennifer Lopez, who was honored with the Michael Jackson Video Vanguard Award, performed a major medley that was a highpoint of the night and Ariana Grande recreated "The Last Supper" for her performance of "God Is a Woman." In a not-so-high point, Madonna delivered an Aretha Franklin tribute that was mostly about Madonna and not really about Aretha Franklin.
Check out a full list of Monday night's winners here.
Tarana Burke responds to the Asia Argento news
Tarana Burke, the activist who began the #MeToo movement, has responded to the news that actor Asia Argento is paying hundreds of thousands of dollars to a man who accused her of sexually assaulting him when he was 17. Argento, who publicly accused disgraced producer Harvey Weinstein of assault, has been a loud voice in the #MeToo movement.
In a series of tweets Monday, Burke showed support for Argento's accuser and warned against using Argento's example as fodder to attack #MeToo. "I've said repeatedly that the #metooMVMT is for all of us, including these brave young men who are now coming forward," Burke said on Twitter. "Sexual violence is about power and privilege. That doesn't change if the perpetrator is your favorite actress, activist or professor of any gender."
She added, "People will use these recent news stories to try and discredit this movement — don't let that happen. This is what Movement is about. It's not a spectator sport. It is people-generated. We get to say 'this is/isn't what this movement is about!'"
Niecy Nash will host a late-night show
TNT has ordered a pilot for a late-night show starring actor and comedian Niecy Nash of Claws and Reno 911!, the network said in a statement Monday. The show will be called Naked With Niecy Nash, and promises to be a "decidedly unique show with a late-night feel" that will take on "all things love, sex, romance and relationships with everyday people." Nash would be a welcome addition to the field of late night, currently dominated by white men, three of whom are named James.
In a statement from the network, Nash said, "I'm so excited to add my voice to the late-night landscape. ... This is going to be a fun and sexy ride!" Hear, hear.
Netflix is launching a Mexican reality series
Netflix will debut a new reality series, what the Hollywood Reporter called "the first-ever Mexican reality series to launch globally," on Sept. 28. The series, called Made in Mexico, will chronicle the lives of nine Mexico City socialites as they "seek to claim their spots among the city's exclusive social order."
Two of the cast members are American expats, according to the Hollywood Reporter. If this is part of a Netflix strategy to add more shows with appeal in multiple countries and languages, it's working on me, because I'm probably going to watch this.
Put this on your radar: Ghoul
Speaking of Netflix and international appeal, the Netflix horror series Ghoul will premiere on the streaming service Aug. 24. The horror series is part of Netflix's lineup of original content out of India, HuffPost reported back in July, and it features Bollywood star Radhika Apte in the lead role. Horror fans look out for this one, because the trailer is very scary. Watch it here.