MTV VMAs 2018: Madonna used her "tribute" to Aretha Franklin to mostly talk about herself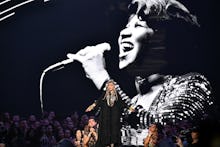 During Monday night's MTV Video Music Awards, Madonna was scheduled to pay tribute to the late Queen of Soul, Aretha Franklin. But instead of using the platform to run down Franklin's lengthy accomplishments and influence, Madonna pretty much talked only about herself and how she got her start in the music business.
While onstage, Madonna told a story about an audition she had in the very beginning of her career and how she was unsure of what to sing. She settled on a rendition of Franklin's "(You Make Me Feel Like) A Natural Woman," saying, "One of my favorite albums was Lady Soul by Aretha Franklin."
Toward the end of her speech — which eventually segued into her handing out the night's top award for video of the year — Madonna attempted to make sense of how her story tied with Franklin's legacy, besides them both being Detroit natives.
"You're probably all wondering why I'm telling this story," Madonna said, while standing in front of an image of Franklin. "There is a connection. Because none of this would have happened, could have happened, without our Lady of Soul. She led me to where I am today, and I know she influenced so many people in this house tonight. In this room tonight. And I want to thank you, Aretha, for empowering all of us. R.E.S.P.E.C.T.," she said, referring to Franklin's iconic hit "Respect."
Needless to say, fans of Franklin have been outspoken on social media, criticizing Madonna's speech for being self-centered. Below you'll find just some of the reactions to Madonna's so-called "tribute" to Aretha Franklin.
Madonna isn't known to backpedal, but we'd bet on someone involved with this segment making an appearance in Mic's ongoing Who's Sorry This Week? column.