Today in Trump's America: Trump says he could "run" the Mueller probe if he wanted to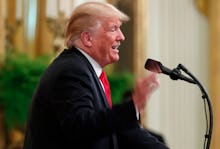 Welcome to Mic's daily read on Donald Trump's America. Want to receive this as a daily email in your inbox? Subscribe here.
Good morning from Emily Singer at Mic.
Check out Mic Dispatch, Mic's new show reporting on the problem-solvers and the provocateurs in our changing world. Subscribe here for alerts on new episodes airing Tuesdays and Thursdays at 8 p.m. Eastern on Facebook Watch.
Here's what's happening in Trump's America:
• Trump heads to West Virginia Tuesday afternoon for a fundraiser and campaign rally.
About last night: Trump changes tune on Mueller interview, says it could be "perjury trap"
President Donald Trump told Reuters Monday he has the power to intervene in special counsel Robert Mueller's investigation if he wants to — a comment raising more alarm bells among those who want to see Mueller's investigation finish without any obstruction.
"I can go in, and I could do whatever — I could run it if I want. But I decided to stay out," Trump told Reuters in an interview. "I'm totally allowed to be involved if I wanted to be. So far, I haven't chosen to be involved. I'll stay out."
Trump's comments led to an outcry from Democrats, who have been trying to pass legislation to protect Mueller's probe but have been thwarted by Republican leadership — which refuses to put such legislation to a vote. The Senate Judiciary Committee advanced a bill to protect Mueller back in April, but it never made it to the full Senate for a vote because Senate Majority Leader Mitch McConnell doesn't think it's necessary.
"The president better not make a single move to fire Bob Mueller, and if he does, the Congress should move immediately to impeach," Rep. Joaquin Castro (D-Texas) said on MSNBC Monday night after the Reuters interview published.
Trump also told Reuters he thinks an interview with Mueller is a "perjury trap" — echoing the statements of his outspoken lawyer and former New York City Mayor Rudy Giuliani.
"So if I say something and he [former FBI Director James Comey] says something, and it's my word against his, and he's best friends with Mueller, so Mueller might say: 'Well, I believe Comey,' and even if I'm telling the truth, that makes me a liar. That's no good," Trump told Reuters.
Trump, however, did not say whether he would sit down with Mueller for an interview.
The president's comments come as he continues to rail against Mueller's probe, and after reports that White House counsel Don McGahn sat for 30 hours of interviews with the special counsel's investigators. McGahn's interviews have "unnerved" Trump, according to CNN.
Today in Trump's America: Manafort jury deliberations resume for fourth day
The jury in the trial against former Trump campaign chairman Paul Manafort has yet to come to a conclusion, after it left deliberations Monday without reaching a verdict.
The jury has now deliberated for three full days as it tries to determine whether prosecutors proved beyond a reasonable doubt that Manafort committed the numerous counts of bank fraud and tax evasion he was charged with.
It's impossible to say whether the lengthy deliberations are a good or bad sign for Manafort.
Prosecutors presented a mountain of evidence at the trial, giving jurors a lot of information to sift through as they deliberate on more than a dozen charges.
The jury did not send any notes to Judge T.S. Ellis Monday with questions or insight into how deliberations were going. It's possible that if the jury is deadlocked, it would have let Ellis know by now that its members did not think they could come to the necessary unanimous agreement on a verdict.
Either way, jurors will resume deliberations at 9:30 a.m.
And the rest…
Nazi deported: The United States deported 95-year-old former Nazi concentration camp guard Jakiw Palij to Germany, according to a White House announcement early Tuesday morning. Palij lied to gain entry to the U.S. after World War II and had been living in the Queens borough of New York — where his presence outraged the local Jewish community. The entire New York congressional delegation wrote a letter to the State Department in 2017 urging it to deport Palij.
"Palij had lied about being a Nazi and remained in the United States for decades," White House press secretary Sarah Huckabee Sanders said in a statement. "Palij's removal sends a strong message: The United States will not tolerate those who facilitated Nazi crimes and other human rights violations, and they will not find a safe haven on American soil."
He really said that: Trump held an event Monday at the White House to honor agents of U.S. Customs and Border Protection and Immigrations and Customs Enforcement in which he botched the name of one agency and assumed a Hispanic-American border protection agent didn't speak English.
"Speaks perfect English," Trump said as he invited Adrian Anzaldua, who arrested a smuggler at the Texas border, to speak. The president also continuously botched the acronym of the CBP, instead calling it the CBC multiple times. The CBC is the Congressional Black Caucus.
First lady to travel to Africa: Melania Trump will embark on a solo trip through Africa in October, the Associated Press reported Monday. It's notable the first lady is headed to a continent filled with nations Trump notoriously called "shithole" countries.
"This will be my first time traveling to Africa and I am excited to educate myself on the issues facing children throughout the continent, while also learning about its rich culture and history," she said in a statement to the AP announcing her trip in what seems like may be yet another dig at her husband.