ICE deports suspected Nazi death camp officer living in New York City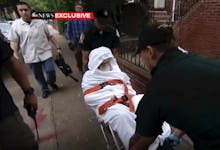 United States Immigration and Customs Enforcement agents deported a suspected former Nazi death camp officer from the Jackson Heights neighborhood of Queens, New York City, on Tuesday, according to a Department of Justice press release. The man is believed to have been living in the country for decades.
According to the release, 95-year-old Jakiw Palij worked as a Nazi-aligned guard at the Trawniki labor camp in German-occupied Poland in the 1940s, before moving to Queens in 1949, and eventually becoming a United States citizen in 1957. The report notes that the camp was host to one of the deadliest single events in Holocaust history when, on Nov. 3, 1943, armed guards fatally shot an estimated 6,000 Jewish prisoners at the camp.
"By serving as an armed guard at the Trawniki labor camp and preventing the escape of Jewish prisoners during his Nazi service, Palij played an indispensable role in ensuring that the Trawniki Jewish victims met their horrific fate at the hands of the Nazis," the Department of Justice said.
Palij's deportation comes after years of legal proceedings and investigations, during which the former guard reportedly lied to U.S. immigration officials about his complicity in the atrocities of World War II. Although the Justice Department — and notable Nazi hunter, Eli Rosenbaum, in particular — had doggedly pursued Palij's case, it took years to finally obtain an order to remove him from the U.S., as no other country would agree to take him.
In a 2003 interview with the New York Times, Palij confessed to having worked at Trawniki but staunchly denied any wrongdoing, insisting that he and others had been coerced into conspiring with the Nazi occupiers in his small Polish hometown.
"They came and took me when I was 18," he told the paper. "We knew they would kill me and my family if I refused. I did it to save their lives, and I never even wore a Nazi uniform. They made us wear gray guards' uniforms and had us guarding bridges and rivers."
But in the same article, Rabbi Marvin Hier, founder of the Simon Wiesenthal Center to bring former Nazi co-conspirators to justice, said that Palij's denials had fallen on deaf ears.
"Every time they find a guard like this, he says he was forced into service," Hier said. "To work at those camps, you had to be eager to be there. They only took people they knew were loyal and brutal and not sympathetic to pleas of the inmates."
Palij is believed to have been the last alleged war criminal from the Nazi era living on U.S. soil and being investigated by the Justice Department's Office of Human Rights and Special Prosecutions, according to CNN.
On Monday night, as ICE officers surrounded the small brick duplex in the Jackson Heights section of Queens where a Palij, who uses a wheelchair, had been living out his twilight years, a contingent of young students from the local Orthodox Jewish Rambam Mesivta school gathered on the pavement to rally around the former Nazi collaborator's deportation.
"His hands are drenched in blood," read one sign. "No Palij in the USA," read another.
In a statement to ABC News, Sen. Chuck Schumer (D-N.Y.) said that Palij's victory was a triumph and underscored that the U.S. is "no place for a war criminal."
"I'm glad this man is finally being sent back," Schumer told the network. "He's a war criminal and did not deserve to live in the U.S. He doesn't deserve to die in the U.S., a place of freedom and equality where we respect each other's differences."