Madonna responds to VMAs critics: "I did not intend to do a tribute" to Aretha Franklin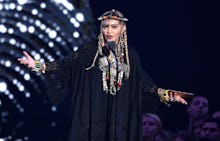 One of the most talked-about moments of the MTV Video Music Awards, which happened in New York City on Monday night, was Madonna's slightly off "tribute" to Aretha Franklin, who died on Thursday. Standing in front of a massive image of Franklin, Madonna spoke mostly about herself, telling a long anecdote about an audition where she happened to sing Franklin's "(You Make Me Feel Like) A Natural Woman."
Aside from a few mentions of Franklin's music, most of Madonna's lengthy speech, which came right before she presented the video of the year to winner Camila Cabello, was about her own career — which earned her plenty of criticism on social media.
In an Instagram post on Tuesday, Madonna seemed to respond to that criticism and defend her speech, saying it wasn't intended to be a "tribute" to Franklin, writing:
Just to clarify: I was asked to present video of the year by MTV! And then they asked me to share any anecdotes I had in my career connected to Aretha Franklin! I shared a part of my journey and thanked Aretha for inspiring me along the way. I did not intend to do a tribute to her! That would be impossible in two minutes with all the noise and tinsel of an award show. I could never do her justice in this context or environment. Unfortunately most people have short attention spans, and are so quick to judge. I love Aretha!
Whether or not Madonna's speech was intended to serve as a Franklin tribute is beside the point — the Queen of Soul certainly deserved more from the VMAs than a cameo in Madonna's story. And Madonna's Tuesday Instagram didn't respond to backlash over the singer's fashion choice — which she herself acknowledged was a North African Berber, or Amazigh, outfit.
Despite criticism of Madonna's look as cultural appropriation, she didn't have much to say about it on Tuesday besides "I LOVE my dress!"