Michael Cohen pleads guilty to illegally paying money to "silence" women who could damage campaign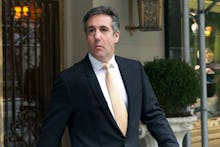 Michael Cohen, the former personal lawyer and fixer for President Donald Trump, pleaded guilty Tuesday to eight felony counts, including two charges of campaign violations that directly implicate Trump himself.
Prosecutors announced Tuesday that Cohen had admitted to five counts of tax evasion on $4.1 million worth of income, one count of making false statements, one count of making unlawful campaign contributions and one count of making an excessive contribution at the request of a campaign or candidate for office.
Cohen "worked to pay money to silence two women who had information that he believed would be detrimental to the 2016 campaign," a federal prosecutor said at a news conference announcing the charges, adding, "These are very serious charges and reflect a pattern of lies and dishonesty."
As he entered his plea agreement, Cohen said he violated campaign finance laws "in coordination and at the direction of a federal candidate for office."
ABC News first reported on the deal Tuesday. The plea agreement is a major blow to Trump, who had entrusted the attorney with some of his most sensitive personal and professional matters.
Cohen's lawyer, Lanny Davis, later implied on Twitter that given his client's testimony, Trump is also guilty.
"Michael Cohen took this step today so that his family can move on to the next chapter," Davis tweeted. "This is Michael fulfilling his promise made on July 2nd to put his family and country first and tell the truth about Donald Trump.
"Today he stood up and testified under oath that Donald Trump directed him to commit a crime by making payments to two women for the principal purpose of influencing an election," Davis added in a separate tweet. "If those payments were a crime for Michael Cohen, then why wouldn't they be a crime for Donald Trump?"
Cohen, 51, had been under federal investigation for months over a number of crimes, including some related to his taxi medallion business and campaign finance violations related to the hush money he paid adult film actress Stormy Daniels in 2016 to silence her about an alleged affair she had with Trump a decade earlier.
The probe first came to the public's attention in April, when investigators working under referral from special counsel Robert Mueller conducted a raid on Cohen's residence, hotel room and office.
Trump was infuriated at the time, calling the raid an "attack on our country."
It had long been rumored Cohen would flip on Trump, but the president initially insisted his longtime lawyer, who once said he would "take a bullet" for him, would remain loyal.
Since the raids, Cohen had increasingly indicated a willingness to cooperate with investigators and has created damaging news cycles for his former boss in recent weeks. Trump and his attorney Rudy Giuliani have since gone on the attack, suggesting Cohen is dishonest and attempting to "make up stories in order to get himself out of an unrelated jam."
Cohen is just the latest member of Trump's inner circle to either plead guilty to criminal charges or be indicted.
Former national security adviser Michael Flynn pleaded guilty in December to lying to the FBI as part of his own deal to cooperate with Mueller's team.
Meanwhile, former Trump campaign manager Paul Manafort was found guilty Tuesday on eight counts of bank and tax fraud. Upon arriving in West Virginia, Trump commented on Manafort's conviction but refused to answer questions about Cohen.
Cohen worked for Trump for more than a decade and had maintained a close relationship with the president until his firing in May. As Trump biographer Michael D'Antonio told Mic in April, the lawyer "knows everything there is to know about Trump's 500-plus businesses."
"He understands how Trump challenged the boundaries of normal business practices and where he may have crossed them," D'Antonio said. "Prosecutors may now have volumes of material on past 'issues' Cohen fixed, and this exposes what was once private in a way that must worry the president."
Aug. 21, 2018, 6:58 p.m.: This story has been updated.