After 2 years, PETA has finally freed animals from their cages — on animal cracker boxes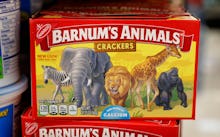 Perhaps you'll now feel a little better about biting the heads off your animal crackers.
Mondelez International, the company that owns Nabisco, announced on Tuesday a redesign of its famous Barnum's Animals crackers box. The new box illustrates animals free of cages, for the first time since the product's introduction to the United States over a century ago.
The new design reflects a number of animals, including a zebra, giraffe and lion freely roaming, with grass and trees in the distance.
Nabisco had received a letter from the People for the Ethical Treatment of Animals about the caged animal crackers back in April 2016.
"Given the egregious cruelty inherent in circuses that use animals and the public's swelling opposition to the exploitation of animals used for entertainment, we urge Nabisco to update its packaging in order to show animals who are free to roam in their natural habitats," PETA wrote in the original letter.
The decision to redesign its original box, which featured a number of animals in circus cages, took place over two years.
"We understand that decisions of such historic significance can take some time," Ben Williamson, PETA's senior international media director, said in an email.
Barnum's Animals crackers were originally created as a marketing ploy. The National Biscuit Co., Nabisco's forerunner, sought to piggyback on the success of Ringling Bros. and Barnum & Bailey Circus, first using "Barnum's Animals" as its name in 1902. However, Ringling Bros. itself had nothing to do with the brand and never received any profits from Nabisco.
PETA has historically opposed the use of elephants in circus acts, citing animal abuse as a rampant problem. The Ringling Bros. succumbed to pressure and retired its elephants in 2016 and later announced its imminent closure in January 2017, citing rising operating costs and declining ticket sales.
"To continue to make the brand relevant for years to come, we felt this was the right time for the next evolution in our design, now showing the animals in a natural habitat," Mondelez International spokesperson Kimberly Fontes said in a statement Tuesday.
PETA received immediate backlash on Twitter following the announcement.
"PETA cant save real animals... so they've moved on to protecting cookies," No Things Considered host Tim Young tweeted.
The cage-free boxes are on sale in U.S. stores now.