Asia Argento denies sexual assault allegations: "I am deeply shocked"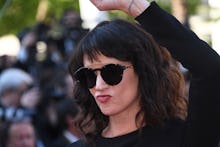 Italian actor and director Asia Argento, a leading voice of the #MeToo movement, has responded to Sunday's New York Times report that detailed an allegation that she sexually assaulted a man when he was 17 and later paid him hundreds of thousands of dollars after he threatened legal action.
In a statement to reporter Yashar Ali that Ali posted on Twitter on Tuesday, Argento denied that the alleged sexual assault took place, claiming that she was "linked" to her accuser, actor and musician Jimmy Bennett, "by friendship only."
In the statement, Argento said that she was "deeply shocked and hurt by having read news that is absolutely false." She went on to say that Bennett had been "undergoing severe economic problems," and "made an exorbitant request" of Argento because he was aware that she was in a relationship with celebrity chef Anthony Bourdain at the time. Bourdain died from suicide in June.
In her statement to Ali, Argento said that Bourdain "was afraid of the possible negative publicity" of Bennett's accusations, and said that "Anthony personally undertook to help Bennett economically, upon the condition that we would no longer suffer any further intrusions in our life."
According to the Times report from Sunday, "Argento quietly arranged to pay $380,000" to Bennett, who alleged that Argento sexually assaulted him in a hotel room in 2013, when he was 17 and Argento was 37. Bennett played Argento's son in the 2004 film The Heart Is Deceitful Above All Things, which Argento also directed.
The Times reportedly obtained documents relating to the payment, including a photograph of Bennett and Argento in bed together, dated from 2013. According to the Times report, in November 2017, Bennett's lawyers sent Argento's representation at the time a notice of intent to sue for $3.5 million. They later settled on the sum of $380,000, to be paid out over a year and a half.
The news that Argento had been accused of sexual assault sent shockwaves through the #MeToo movement, where Argento had been a powerful voice. In the fall of 2017, she was one of several Hollywood women to come forward and publicly accuse disgraced producer Harvey Weinstein of sexual assault.
The Times report about Argento led #MeToo founder Tarana Burke to comment on Twitter on Monday, "I've said repeatedly that the #metooMVMT is for all of us, including these brave young men who are now coming forward. ... Sexual violence is about power and privilege. That doesn't change if the perpetrator is your favorite actress, activist or professor of any gender."