Mic Daily: Cohen and Manafort guilty on multiple charges — and other top stories of the day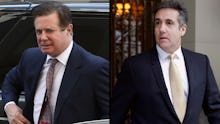 Welcome to Mic Daily: Mic's newsletter that cuts through the noise and lands in your inbox every weekday. We carefully curate each edition to send you a cross section of our most vital stories of the day. Want to receive this as a daily email in your inbox? Subscribe here.
Want more entertainment news in your inbox? Sign up for Hype Daily — Mic's morning entertainment roundup. It's got all the news you need to start your day.
Paul Manafort — President Donald Trump's former campaign chairman — has been found guilty on eight felony charges: five counts of tax fraud, one count of failing to file a foreign bank account and two counts of bank fraud.
Judge T.S. Ellis declared a mistrial on 10 other counts on which the jury couldn't reach a unanimous verdict. That does not mean Manafort is not guilty of those charges, only that the jury could not agree on whether prosecutors proved those charges beyond a reasonable doubt.
Michael Cohen, Trump's former personal lawyer and fixer, pleaded guilty Tuesday to eight counts, including two charges of campaign finance violations.
Cohen reportedly admitted to five counts of tax evasion, one count of making false statements, one count of making unlawful campaign contributions and one count of making an excessive contribution at the request of a campaign or candidate for office.
Sen. Elizabeth Warren (D-Mass.) introduced a broad anti-corruption bill Tuesday that would, among other things, impose a lifetime lobbying ban on presidents and federal lawmakers, prohibit individual members of Congress from owning stocks and, in a clear jab at Trump, require presidential candidates to release years of tax returns.
One of the most talked-about moments of Monday's MTV Video Music Awards was Madonna's "tribute" to Aretha Franklin, who died Thursday. Standing in front of a massive image of Franklin, Madonna spoke mostly about herself, telling a long anecdote about an audition where she happened to sing Franklin's "(You Make Me Feel Like) A Natural Woman."
Madonna responded Tuesday to widespread criticism of her lengthy, self-centered speech in an Instagram post.
Back in June, Star Wars actor Kelly Marie Tran — who played the character of Rose Tico in 2017's The Last Jedi — deleted all her Instagram posts after experiencing months of racist harassment from fans of the series. In a new op-ed published Tuesday in the New York Times, Tran spoke out about the online hate and the way the harassment "seemed to confirm" the otherness she felt growing up as a woman and a person of color.