'Mic Dispatch' episode 11: Rapper 21 Savage; the police shooting of Tyler Gebhard (full transcript)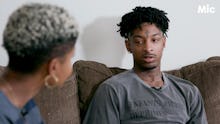 On episode 11 of Mic Dispatch, correspondent Chantel Simpson travels to DeKalb County, Georgia, to talk with 21 Savage about poverty among black Americans, how a lack of financial literacy is affecting black youth and the ways 21 Savage is taking steps to change all that for the better — including through his program Get Schooled. Then, correspondent Aaron Morrison interviews the family of police shooting victim Tyler Gebhard about the circumstances of his death, how the white community in which they live responded to the shooting and the legacy Gebhard left behind.
21 Savage: It's like a lot of poverty in our communities, like where I'm from. You can't get taught how to manage money by somebody that's poor. They don't teach you how to save your money or how to manage your money in school. I didn't know nothing about bank accounts until I was probably about 23.
Natasha Del Toro, anchor, Mic Dispatch: The poverty rate among African-Americans is almost double the national average. According to census data, about 1 in 4 African-American households live in poverty, and it's often chronic. So the question is: How do you break this vicious cycle? An unlikely voice believes he may have an answer. Our correspondent Chantel Simpson takes us to meet Atlanta rapper 21 Savage to talk money.
21 Savage, rapper: A white child, like, they be having they life already set up. Their parents set their life up. "We're going to give you this much money so you can do this. We're going to give you this much money a week for allowance." In black communities, like, we don't really have that. It's like a lot of poverty in our communities, like where I'm from. You can't get taught how to manage money by somebody that's poor. So if your mom poor, she ain't gonna be able to teach you how to manage money 'cause she poor.
Chantel Simpson, correspondent: 21 Savage is a well-respected rapper from Atlanta, Georgia. In 2017, his debut album — aptly named Issa Album — climbed to No. 2 on the Billboard 200. While he may rave about his earnings on his triple-platinum hit "Bank Account"...
[21 Savage, in song clip: 3-4-5-6-7-8 M's in my bank account, yeah.]
Simpson (voiceover): Savage had a humble upbringing.
Simpson: What was it like growing up in this apartment complex?
21 Savage: It was rough like any other neighborhood — a lot of poverty, I don't know. It's like any other 'hood in America. Regular old 'hood.
Simpson: So is this your place?
21 Savage: Yeah.
Simpson: Ah, OK. What was the easiest way to make money out here?
21 Savage: Illegal activities, probably.
Simpson: You had to, like, support yourself, basically.
21 Savage: Yeah. But, like, my situation was kinda different 'cause my momma and her husband at the time, they broke up and I didn't want to be there. So it's just like, I had to go do my own thing.
Simpson (voiceover): Savage now tours the country and supports himself through his music, but he never really left his old block.
21 Savage: I still be here a lot though 'cause it's like motivation. It's like, I know where I came from.
Simpson: And you want to provide things for the kids here, too.
21 Savage: Yeah, I'm successful and I can do it, so why not?
Simpson (voiceover): Not only has Savage kept firm roots in his old 'hood, but he's made it his mission to help kids in DeKalb County build a solid foundation for their future.
Man at event: We out here, 21 Savage school giveaway. Everything free. We got free water, free baked beans, free chicken, free ribs, school uniforms, shoes. Whatever you need.
21 Savage: Kids shouldn't have to go to school with nothing. I feel like everything else should be supplied at the school: paper, pens, everything. Parents shouldn't have to worry about that type of stuff.
Simpson (voiceover): There's one more thing Savage believes kids shouldn't go without: He recently teamed up with the nonprofit Get Schooled to launch his 21 Savage Bank Account Campaign, aimed at teaching teens how to manage their money. He also awarded $1,000 to 21 students nationwide to open bank accounts. We met up with one of those recipients in Atlanta.
Simpson: Hi.
Bill Pongnon: Hey. How you doing?
Simpson: Nice to meet you.
Simpson (voiceover): Bill Pongnon is a 19-year-old high school senior. He loves football, and dreams of getting a scholarship to play in college. But right now, he has to juggle school and a job because, like Savage, at just 17, he decided to leave home.
Pongnon: So, when we moved to the States, I was having a really tough time at home. And when I met my girlfriend, her family was nice and they kind of invited me in and I, like, I moved out.
Simpson: Would you say you're completely supporting yourself right now?
Pongnon: Yeah, I would.
[Pongnon (to cat): What's up, buddy?]
Pongnon: This year for me was, like, my first year being independent and having to get a job. It's tough. It's tough.
Simpson: Are you able to save money currently?
Pongnon: Not really. I'm almost slipping into debt, and I don't like it.
Simpson (voiceover): According to a 2015 study, students from the highest socioeconomic status scored 97% higher in financial literacy than those from the lowest socioeconomic status. When paired with the fact that black people in Atlanta face a 22% unemployment rate, the opportunity for black youth to break out of poverty appears slim.
Pongnon: So, like, my room is literally coming together. I just put this up last night.
Simpson, to 21 Savage: Why did you become interested in teaching kids about finances?
21 Savage: They don't teach you how to save your money or how to manage your money in school. I didn't know nothing about bank accounts until I was probably about 23. I didn't know nothing: how to operate a bank account, how to use a card, nothing. So I feel like if I would have learned that early on, I would've never made some of the mistakes I made.
Simpson (voiceover): Bill [Pongnon] has a bank account and is taking steps to get financially on track.
Pongnon: On my phone, I have notifications for every time I spend money. And for when I'm spending a little bit too much on a day, I get the text and I just know, you know, I gotta chill out. Every now and then, you know, you got to get the shoes. You gotta get a belt. Everybody in Atlanta got a belt. I actually have a Ferragamo belt.
Simpson: In Atlanta, it's really important to keep up with appearances, like people like to spend a lot of money on their clothes and all of that. How do you fight the temptation to fit in?
Pongnon: So somebody really smart told me one time, you know like, "You gotta know your situation before you partake in anything."
Simpson: Why are belts such a big status thing?
Pongnon: Rappers — they tuck in hoodies just to show the belt. So we got hooked onto it. And it looks nice, too.
21 Savage: A lot of the stuff, like us as black people, I'll say, we buy a lot of stuff because it shows other people that we have money. And like, other communities, you wouldn't know they had money, but they'll be so rich but they don't really flash a lot. I feel like we need to stop buying things just because they're expensive, just to say, "I spent this much on this," because it don't really hold no value.
Simpson: You received $1,000 from 21 Savage. What did you do with that money?
Pongnon: That money actually saved me a month from being in debt, because I needed to pay my car insurance. And I got new tires with the money, so it really just went into my pride and joy. When I bought my car, everybody told me I wasn't going to be able to do it. And I tell myself, you know, "I'm going to work. I'm going to save up. I'm going to buy a car." So I did save up and buy this.
Simpson (voiceover): Pongnon had a chance to thank Savage in person.
21 Savage: What position you play in football?
Pongnon: I'm a running back and a corner.
21 Savage: Yeah, you too small. You gotta get your weight up.
[21 Savage, after tossing a football to Pongnon: C'mon. You can't catch.]
Pongnon: I don't know. You really [are] like a role model 'cause it's not too different from where we started at, so if you can do it, I feel like I'm gonna be able to do it one day.
21 Savage: You sound like you got everything you need. You on the right track. A young black man that's a senior in high school, that say a lot right there. 'Cause a lot of kids drop out early ages. Like I dropped out in, like, ninth grade. You want something out of life, you're determined to get it, just keep doing what you're doing.
Pongnon: I see a lot of people in my situation that aren't doing nearly as good as I'm doing. Like, I complain about my situation, but I see people in so much worse situations. So I think it is pretty tough, but like most Atlanta people, like, they normally find a way out of it. So you just got to hope on that.
Del Toro: I think its really noble what 21 Savage is doing to help kids break the cycle of poverty. But do you think it's enough? What are other ideas? We want to hear from you, so leave a comment on our show page.
The "black lives matter" vs. "all lives matter" debate is contentious enough on its own. So what happens when a white family tries to seek justice after their biracial child is killed by a police officer? It gets even more complicated when that same family has many relatives who happen to be police officers themselves. Mic correspondent Aaron Morrison visited a St. Louis-area family that's struggling to understand their son's death inside a debate that's not always so black and white.
Angela Johnson, Tyler Gebhard's mother: The fact that we have to say "all lives matter" — they don't, because black lives don't. My son's life didn't matter.
Aaron Morrison, correspondent (voiceover): Angela Johnson's son, 20-year-old Tyler Gebhard, told family and friends that he feared being killed by police. His fear tragically came to fruition in 2016, in the midst of one of the biggest sparks in race relations in recent memory. Years later, his family is still trying to make sense of what happened. On July 9, 2016, Gebhard showed up to the home of [off-duty] Officer Joshua Lasley's in-laws in Lakeshire, Missouri. Gebhard, quote, "rang the doorbell in an aggressive and intimidating manner." But when no one answered the front door, authorities said he went to the back porch, threw a concrete block through the glass doors and entered the home. Meanwhile, Lasley's wife dialed 911.
Lasley's wife: Someone's broke in. [Inaudible] He is a half-and-half gentleman who we have issues going on with. His name is Tyler Gebhard. There's gunshots in the house.
Marlene Gebhard, Tyler Gebhard's grandmother: They referred to him as a half-and-half. A half-and-half. That's how he was referred to. I was stunned.
Morrison (voiceover): Before Lasley shot Gebhard, he told authorities that Gebhard claimed to be Jesus and asked the officer to hand over his gun. Gebhard's family believes he had been living with a psychological disorder.
Marlene Gebhard: Tyler was diagnosed in April of 2015 with bipolar disorder, and, you know, the psychiatrist at school immediately told him that she didn't think he was bipolar. So he stopped taking his medicine.
Morrison (voiceover): Gebhard did not obey Lasley's commands to get on the ground, authorities said. Gebhard had lunged at the officer, causing him to fear for his life and the lives of his wife, children and in-laws. Gebhard knew Lasley's in-laws through their church and had socialized with them in the house that he was shot in. But the day before he was shot, he had upset the in-laws by making statements that were critical of police officers.
Marlene Gebhard: The original police narrative was this: "Missouri man shot dead by police officer during break-in after Black Lives Matter dispute."
Morrison (voiceover): In interviews with detectives, Lasley's in-laws claimed "Gebhard said he couldn't leave his house because he was fearful he would be shot by police. [An unidentified woman] tried to change the subject, but Gebhard continued to talk about how many black people were being killed by police." Gebhard was killed a couple of days after the shooting deaths of two black men, Philando Castile and Alton Sterling, which dominated the national news cycle that week. That was also the week a black lone gunman murdered five Dallas officers, apparently in retaliation for the deaths of Castile and Sterling. An investigation by St. Louis County prosecutor Robert McCulloch cleared Lasley of wrongdoing on Feb. 2, 2017. McCulloch said Lasley acted in self-defense and is protected by the so-called stand your ground law. More than two years later, Gebhard's mother and grandparents don't believe they've received justice. They want to know why the use of lethal force was necessary on an unarmed 20-year-old, and why Lasley was not concerned about Gebhard's mental state.
Marlene Gebhard: I come from a family of police officers. There are 10, five of whom I haven't communicated with since Tyler was killed. And that was very destructive for me personally. A police officer who's a member of the family who I still speak to said this to me: "We are the biggest gang in America. No one penetrates us."
Morrison (voiceover): The Gebhard family, especially Marlene, has had to confront their own views on racial injustice. Do black lives matter? Do all lives matter? Do blue lives matter?
Marlene Gebhard: Tyler and I had a conversation five or six months before this, and, you know, he — we were watching all of these things occur across the country, and I made the statement, I said, "Ty, all lives matter." He said, "But grandma, you're missing the point. Black people are just being singled out for their color." And I said, "Ty, I don't see your color." And he said, "Gram, that's the problem." And I knew then that I sent him — his mother and I, we sent him off into the world unprepared for what he would face. He lived in such a sheltered existence and that's what he explained to me: "My color makes a difference." Racism exists, I have experienced it, I am a white person of privilege, but if I couldn't get justice, who can?
Morrison: So tell me a little bit about Affton. What's Affton like?
Johnson: It's predominantly a white community. We've lived in our house that we live in now about 19 years. My parents were not ready for a black child in the family. So when their daughter had a black child out of wedlock, that was a eye-opening, awakening experience for them. My son was a standout football player, standout baseball player here, never in trouble a day in his life in this community. Right after Tyler was shot, we didn't speak in the media, we didn't say anything. And it seemed like the whole community came out on the side of the officer, without even really knowing the story. It seemed like almost the same day Tyler died, a lot of "blue lives matter" signs went up. I don't understand who they're supposed to protect and serve. When they said, "I am fearful for my life," whose life are they protecting? Because all they have to say is, "I'm afraid for my life," and their homicide is justified. What are you afraid of?
Morrison (voiceover): Marlene Gebhard has taken it upon herself to conduct an investigation that she feels local law enforcement failed to do.
Marlene Gebhard: Everything that we finally got from them was so piecemeal and so full of missing information that it's become an arduous task just to put it all together. The other thing that concerns me is, what about families who don't have someone who's retired? I'm retired. I have nothing but time. This is about all people of color that are traumatized and brutalized and murdered by police departments. We need hundreds of people, thousands of people saying, "Enough." You asked me earlier if I would ever get results: I don't know, but the result I really want is for no other family to experience this, ever.
Johnson: I thank God for the 20 years and 10 months I had with my son. He has left something behind and has changed people for the better because of it. My mom probably, if this hadn't happened, would be playing golf every day of her life, and you know what? Now she's an advocate for change. That is Tyler's legacy.
Del Toro: Another thing to note, Robert McCulloch, the prosecutor on Tyler Gebhard's case, also happens to be the same official who did not bring charges against the officer who killed Michael Brown, the unarmed black teenager in Ferguson, Missouri. That's what sparked the nationwide Black Lives Matter protests. Just this month, voters ousted McCulloch as the prosecutor. And that's it for another episode of Mic Dispatch. Don't forget to follow our show page, leave comments, and see you next time.
Check out episode 11 of Mic Dispatch — only on Facebook Watch.
To catch future episodes of Mic Dispatch, follow Mic Dispatch on Facebook Watch. For more stories about the show, visit the Mic Dispatch collections page.