Cohen implicates Trump as he pleads guilty to campaign finance violations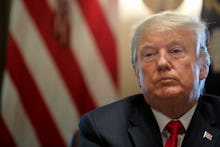 President Donald Trump has been implicated in campaign finance violations committed by Michael Cohen, his former longtime personal attorney and fixer.
Cohen — who pleaded guilty Tuesday to a total of eight felony charges — reportedly told a judge in New York City under oath that he committed campaign finance violations "in coordination with and at the direction of a federal candidate for office," a clear reference to Trump.
It was a stunning development, one that could put the president in significant political and legal peril. It came the same day former Trump campaign chairman Paul Manafort was found guilty in a Virginia court on eight of the 18 bank and financial fraud charges he was facing.
Cohen pleaded guilty Tuesday to five counts of tax evasion, one count of making false statements, one count of making unlawful campaign contributions and one count of making an excessive contribution at the request of a campaign or candidate for office.
Upon arriving in West Virginia for a rally Tuesday evening, Trump commented on the Manafort's conviction but refused to answer questions about Cohen.
Cohen's guilty plea capped a monthslong investigation that included inquiries into his taxi medallion business and payments he made to silence porn star Stormy Daniels and former Playboy model Karen McDougal ahead of the 2016 presidential election.
The investigation first came to the fore in April, when investigators working under referral from special counsel Robert Mueller raided Cohen's home, office and hotel. At the time, Trump said the raid was an "attack on our country."
Months before he was raided, Cohen admitted to paying $130,000 to silence Daniels, who says she had an affair with Trump in 2006.
Trump and the White House have previously suggested the president was unaware of the hush money payment. But in his statement to a federal court Tuesday, Cohen said the payment was made "for principal purpose of influencing election" — a violation of federal campaign finance law.
Despite the plea deal, Cohen could still face prison time.
"The message is that we are here, that the we are a nation of laws, and that the essence of this case is about justice and an equal playing field for all persons in the eyes of the law," Robert Khuzami, the federal prosecutor who executed the Cohen case, said Tuesday outside the New York courthouse after Trump's ex-lawyer entered the plea. "And that is a lesson Mr. Cohen learned today, and it is a very harsh one."