'Mic Dispatch' episode 11: 21 Savage helps teens with finances; Tyler Gebhard's family speaks out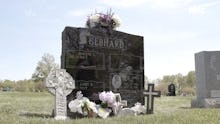 On this edition of Mic Dispatch, we meet rapper 21 Savage — who won an MTV Video Music Award on Monday for song of the year with Post Malone — in his hometown of Atlanta. Savage came from humble beginnings, having dropped out of school in ninth grade and left home while still a teenager. He became well-known in Atlanta's music scene after he released his debut mixtape, The Slaughter Tape, in 2015. Two years later, the rapper raved about his earnings in his song "Bank Account," though he did face some obstacles as his wealth began to grow.
Savage's experience prompted him to start the 21 Savage Bank Account program in partnership with the nonprofit organization Get Schooled. The campaign provides digital resources to help teens learn how to open a bank account and create a budget, as well as other financial literacy tips. Savage also gave $1,000 to 21 students nationwide to help them open bank accounts. He turned his lack of financial knowledge into a learning experience and now uses it as an opportunity to help others.
Next up, we tell the story of Tyler Gebhard, a 20-year-old, biracial St. Louis-area native who was fatally shot by an off-duty police officer in July 2016. Investigators said Gebhard entered the home of Officer Joshua Lasley's in-laws without permission, made odd statements — Lasley told authorities Gebhard claimed to be Jesus — and lunged at Lasley. An investigation by the St. Louis County prosecutor concluded Lasley opened fire in self-defense and cleared the officer of wrongdoing. Gebhard was unarmed. Gebhard's mother and grandparents share his story, explaining why they don't believe they've received justice.
Check out episode 11 of Mic Dispatch — only on Facebook Watch.
To catch future episodes of Mic Dispatch, follow Mic Dispatch on Facebook Watch. For more stories about the show, visit the Mic Dispatch collections page.