Why it's sometimes better to book two one-way airplane tickets instead of one round-trip flight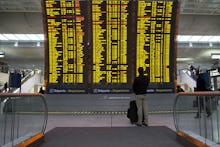 Booking a round-trip ticket is usually the default choice for travelers planning a vacation. But buying two one-way trips instead could actually save you money — if you're willing to put in the extra effort, that is.
As part of its new Flight Hacker Guide launched Wednesday, Kayak analyzed fares to compile a list of the top 10 domestic and international destinations to which booking two one-way tickets could save you up to 16%. From Miami to Tokyo, many of these cities are expensive places where saving a little money could go a long way.
According to the guide, if you're flying domestically, winter months are when you'll likely save the most with two one-way tickets — what Kayak calls a "hacker fare" — and for travel from the U.S., it's consistent across the year.
Kayak's hacker fare tool allows travelers to find more affordable combinations of one-way tickets, often from two different airlines, over round-trip tickets while searching for flights.
The percentage of one-way tickets purchased has risen steadily since 2014, and a report by the New York Times found that 44% of airline travelers booked a one-way ticket instead of a round-trip ticket from January to April 2018. The Airlines Reporting Corporation report the Times referenced attributed the growth to "leisure and unmanaged travelers."
Nearly a third of the top airlines in the U.S. have seen one-way travel become more affordable, the ARC found.
"It used to be that one-way tickets always cost more but that is no longer necessarily the case," Jay Johnson, president of Coastline Travel Advisors, a Virtuoso Agency, said in an email. "Plus, this gives the flexibility to make changes to a return if need be. All in all, it's a good practice to check both round-trip and two one-way fares."
According to Kayak's new data, these are the top places to which you can expect to save on one-way tickets — and how much you could potentially save compared to the round-trip cost.
The top 10 international destinations to which booking one-way tickets could save you money
1. Florence, Italy: 16%
The top 10 domestic destinations to which booking one-way tickets could save you money
1. Colorado Springs, Colorado: 12%