Michael Cohen's lawyer suggests Donald Trump should face charges over hush payments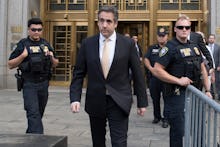 Lanny Davis, the lawyer representing Michael Cohen, called for President Donald Trump to be charged over hush money paid ahead of the 2016 election to silence women who claimed to have had affairs with him.
"Michael Cohen took this step today so that his family can move on to the next chapter," Davis tweeted. "This is Michael fulfilling his promise made on July 2nd to put his family and country first and tell the truth about Donald Trump.
"Today he stood up and testified under oath that Donald Trump directed him to commit a crime by making payments to two women for the principal purpose of influencing an election," Davis added in a separate tweet. "If those payments were a crime for Michael Cohen, then why wouldn't they be a crime for Donald Trump?"
Cohen, Trump's former longtime attorney and fixer, pleaded guilty Tuesday to eight charges — five counts of tax evasion, one count of making false statements, one count of making unlawful campaign contributions and one count of making an excessive contribution at the request of a campaign or candidate for office.
Cohen directly implicated the president in his guilty plea, saying he broke campaign finance laws "in coordination with and at the direction of a federal candidate for office" — a clear reference to Trump — and did so "for principal purpose of influencing election."
The stunning allegation, made under oath, could put Trump in significant legal and political peril.
The guilty plea came the same afternoon Trump's former campaign manager, Paul Manafort, was found guilty on eight of the 18 bank and financial fraud charges he'd been facing in Virginia.
Trump called Manafort's conviction "sad" in comments to reporters as he arrived at a rally in West Virginia, but refused to answer questions about Cohen.
Rudy Giuliani, Trump's attorney, said in a statement Tuesday that there was "no allegation of any wrongdoing against the president in the government's charges against Mr. Cohen."
However, the new developments could pose a major threat to his presidency.
For his part, Cohen could be facing three to six years in prison. His sentencing hearing is scheduled for December.
His guilty plea came after a monthslong federal investigation into Cohen's efforts in 2016 to silence porn star Stormy Daniels and ex-Playboy model Karen McDougal — both of whom say they had affairs with Trump years earlier.
Michael Avenatti, the lawyer representing Daniels, said Cohen's guilty plea could be the beginning of the end of Trump's presidency.
"We are going to end this dumpster fire of a presidency one way or another," Avenatti tweeted Tuesday evening.