Rep. Duncan Hunter charged with using more than $250K in campaign funds for personal expenses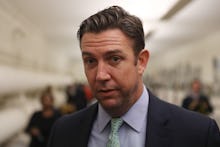 Rep. Duncan Hunter (R-Calif.), the second member of Congress to endorse President Donald Trump in the 2016 election, was indicted Tuesday, along with his wife, on charges he used more than $250,000 in campaign funds for personal expenses and falsified reports with the Federal Election Commission.
The charges against Hunter mean Trump's first two congressional endorsers have now both been indicted.
Rep. Chris Collins (R-N.Y.), Trump's first congressional endorsement, was indicted Aug. 8 on charges of insider trading. He later announced he would not seek re-election.
Hunter's indictment came the same day Trump's former campaign chairman Paul Manafort was convicted on eight counts of federal tax fraud and bank fraud. Also on Tuesday, former Trump lawyer and "fixer" Michael Cohen pleaded guilty to eight felony counts, including two charges of campaign violations. Cohen admitted under oath to violating campaign finance laws "in coordination and at the direction of a federal candidate for office," a clear reference to the president himself.
Hunter's indictment is even more problematic for Trump and the Republican Party, as the legal charges against him imperil his re-election bid in a California House seat the GOP cannot afford to lose.
Trump carried Hunter's San Diego-area district by a 15-point margin in 2016.