Hype Daily: Tiffany Haddish continues to rule the world — and other entertainment news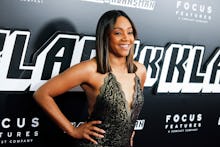 Welcome to Hype Daily, Mic's morning entertainment roundup. Here's everything you need to catch up on in the entertainment world and what to look forward to today. Want to receive this as a daily email in your inbox? Subscribe here.
Good morning, folks. Here are the Hollywood stories you need to start your day — the ones that made me go, "Ahh!"
Tiffany Haddish will grace our screens once more — this time in a stand-up special on Netflix
Ahh! The endlessly entertaining Tiffany Haddish, who is quickly becoming one of the hardest working people in the biz, just struck another deal with Netflix. This time around she's getting her very own stand-up special. I really, really hope she wears her white Alexander McQueen dress again.
In February, news broke Haddish was starring in an animated Netflix series Tuca and Bertie about "a cocky-carefree toucan, and Bertie, an anxious, day-dreaming songbird," per the Hollywood Reporter. The part of Bertie will be played by Ali Wong, a fellow comedian with a pair of her own extremely good stand-up specials on Netflix.
"Tiffany Haddish is a force," Netflix said in a statement, according to THR. "Hilariously funny, brash and self-effacing, she's an incredible artist who is winning over audiences while breaking barriers, and we are tremendously proud that she will showcase her formidable talent on Netflix."
This is just the latest project Haddish has landed in the wake of her breakout performance in the raucous 2017 comedy Girls Trip. In September, Haddish will be back in theaters in the movie Night School, which also stars Kevin Hart. She's also starring in The Oath, a comedy directed by Ike Barinholtz, and Nobody's Fool, a Tyler Perry film coming out in November.
Congrats, Tiffany. Go get a massage or something.
HBO is officially making a TV adaptation of Mrs. Fletcher, starring Kathryn Hahn (!)
This news sent me into a tizzy, folks. HBO has officially ordered a full series adaptation of Mrs. Fletcher, an extremely smart, funny novel by Tom Perrotta. He's the guy who wrote The Leftovers, the novel later adapted into the critically acclaimed HBO series of the same name.
In a bit of utterly flawless casting, the titular role of Eve Fletcher, a divorced 40-something whose only son has just left for college, will be played by Kathryn Hahn. (If you haven't seen Hahn's recurring guest role on Parks and Recreation — hoo boy. Do yourself a favor.) In the wake of her son's departure from home, Eve reconnects with her youth and rekindles her sex drive — in part through discovering the big, bad world of internet pornography.
Alongside the announcement of the series order, HBO revealed a few other lead cast members, too. Of note, out transgender actor Jen Richards has been cast as Margo Fairchild, a transgender professor at a local college in which Eve is enrolled. It's a small consolation, but it's a relief the show has cast a trans person to play the book's lead trans character — especially in the wake of the now-backpedaled casting of Scarlett Johansson in Rub & Tug.
More fallout from the allegations of sexual assault against #MeToo activist Asia Argento
Sunday, the New York Times reported Italian actor and director Asia Argento, one of the many to first accuse Harvey Weinstein of sexual assault in 2017, was embroiled in a scandal of her own. The Times reported Argento may have sexually assaulted actor and musician Jimmy Bennett. She is paying him $380,000 to keep quiet after he threatened legal action. The alleged incident took place in 2013, when Bennett was 17 and Argento was 37.
Argento has denied the allegations, saying she and Bennett were "linked ... by friendship only." Argento said the late Anthony Bourdain, her then-boyfriend, "personally undertook to help Bennett economically, upon the condition that we would no longer suffer any further intrusions in our life."
Tuesday, another Weinstein accuser, actress Mira Sorvino, posted a statement on Twitter, saying she was "reeling" from the news.
"Time will clarify things and perhaps she will be exonerated, but if true, there is no lens that makes it better," Sorvino said. "Child sexual assault is a heinous crime and is against all that I and the #MeToo movement stands for. I remain dedicated to fight for all victims and change the culture that encourages abuse of power in sexual relationships."
Put this on your radar: Slice
Tuesday, the increasingly powerful indie film studio A24 dropped a sizzling trailer for Slice, a horror-comedy about a demonic portal that opens up inside a pizza restaurant.
The movies stars Zazie Beetz, who you might recognize from Atlanta and Deadpool 2; Joe Keery, who plays the dreamy, swoopy-haired Steve Harrington in Stranger Things; comedian Paul Scheer; Chance the Rapper in his acting debut; and Rae Gray, a relatively unknown actor who has appeared in a few episodes of Fear the Walking Dead.
No word on exactly when or where this movie will be released yet, unfortunately. Right now, the A24 website simply says it'll be released sometime in 2018, "TBD." Even though details are still scarce, I can't wait to see it. Watch the trailer right here.