Today in Trump's America: Cohen has implicated Trump, and Republicans must brace for fallout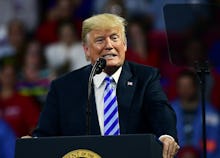 Welcome to Mic's daily read on Donald Trump's America. Want to receive this as a daily email in your inbox? Subscribe here.
Good morning from Emily Singer at Mic.
Check out Mic Dispatch, Mic's new show reporting on the problem-solvers and the provocateurs in our changing world. Subscribe here for alerts on new episodes airing Tuesdays and Thursdays at 8 p.m. Eastern on Facebook Watch.
Here's what's happening in Trump's America:
• Trump's day doesn't begin until 12:45 p.m., when he'll have lunch with Secretary of Defense James Mattis.
About last night: Legal woes of Trump's inner circle now implicate Trump himself
Tuesday may just have been the worst day of Donald Trump's presidency.
The president's former campaign chairman, Paul Manafort, was convicted of eight felony counts of tax evasion and bank fraud.
Moments later, it was announced Trump's longtime personal lawyer and "fixer" Michael Cohen pleaded guilty to similar crimes as well as a campaign finance scheme that directly implicates Trump.
If that wasn't enough, as of Tuesday, the first two members of Congress to endorse Trump's candidacy have now both been indicted. Rep. Duncan Hunter (R-Calif.) was charged with misusing more than $250,000 in campaign funds for personal purposes. Hunter's legal woes now imperil what should be a safe House seat for Republicans in a year Republicans cannot afford to lose any safe seats.
All told, Tuesday's developments show no matter how loud Trump and his defenders scream about special counsel Robert Mueller's probe, it hasn't stopped the investigation from continuing — and delivering results.
It's worth noting Trump is already legally implicated in a felony — Cohen testified under oath that Trump directed him to engage in an illegal campaign finance scheme — even before Mueller's team has completed the investigation into Russian collusion.
Even worse for Trump, any recourse the president has to thwart the investigation would jeopardize his political footing and put him in an even more precarious position than he's already in. He's now staring down the distinct possibility of beginning 2019 with a Democratic-controlled House that will forcefully investigate Trump and his administration.
Republicans, however, don't appear likely to punish Trump on their own just yet.
Senate Majority Whip John Cornyn, when asked his thoughts about Cohen directly implicating Trump, took a page from Trump lawyer Rudy Giuliani's playbook to basically suggest "truth isn't truth."
"I don't think it implicates him at all, particularly on the Russia investigation," Cornyn told reporters on Capitol Hill, according to NBC's Marianna Sotomayor. "This doesn't add anything to the allegation of misconduct relative to the Russia investigation."
That's half true; Cohen's guilty plea doesn't have anything to do with Russia. But it certainly implicates Trump, as Cohen testified under oath that Trump directed him to commit an illegal campaign finance act by paying off a porn actress and former Playboy model to keep their affair allegations silent and not influence the 2016 campaign.
"Today [Cohen] stood up and testified under oath that Donald Trump directed him to commit a crime by making payments to two women for the principal purpose of influencing an election," Cohen's lawyer Lanny Davis tweeted Tuesday. "If those payments were a crime for Michael Cohen, then why wouldn't they be a crime for Donald Trump?"
Today in Trump's America: Trump legal fallout
The legal troubles surrounding Trump continue to get worse and are providing Democrats with a strong message for the 2018 midterms.
"Today's guilty verdicts against President Trump's campaign chairman, Paul Manafort, and the guilty plea of Trump's personal lawyer, Michael Cohen, are further evidence of the rampant corruption and criminality at the heart of Trump's inner circle," House Minority Leader Nancy Pelosi said in a statement Tuesday.
That message sounds a hell of a lot like the one Democrats used in 2006, when the party successfully ran on a message of linking Republicans to a "culture of corruption."
That year, Republicans were tied up in the Jack Abramoff lobbying scandal as well as the scandal around now former Rep. Mark Foley, who was accused of sending sexually explicit emails to teenage boys. Democrats went on to win control of the House and Senate after more than a decade of Republican control.
In 2018, Democrats have even more material to work with for a "culture of corruption" message, with a sitting president now implicated in a criminal finance scheme.
Capitol Hill happenings: Susan Collins takes heat for comments on Kavanaugh nomination
Sen. Susan Collins (R-Maine) has found herself under fire after she said a two-hour meeting with Supreme Court nominee Brett Kavanaugh ameliorated her concerns on Kavanaugh's stance on abortion rights.
"We talked about whether he considered Roe to be settled law. He said that he agreed with what Justice Roberts said at his nomination hearing in which he said it was settled law," Collins said Tuesday after a two-hour meeting with Kavanaugh, according to CNN.
Collins didn't say how she will ultimately vote on Kavanaugh's confirmation, but being OK with his position on Roe v. Wade is a signal she is leaning toward supporting his nomination. And if Collins votes yes, then it's almost certain Kavanaugh will be confirmed.
Of course, plenty of decisions had been "settled" before the Supreme Court changed it. That includes racist decisions like Plessy v. Ferguson.
And Collins has famously been duped before. In December 2017, she said McConnell had given her an "ironclad" commitment to pass an Obamacare stabilization bill by the end of 2017 in exchange for her vote for the GOP tax law. It is now almost September and a stabilization bill has not been passed.
And the rest…
Fraternizing with white supremacists: Trump's top economic adviser Larry Kudlow hosted a man who publishes white supremacist content on a website he owns, the Washington Post reported. Peter Brimelow, who owns the anti-immigrant website Vdare.com, attended a birthday party for Kudlow. The news came a day after a White House speechwriter was fired for speaking on a 2016 panel alongside Brimelow.