As Republicans "hide in the tall grass," a darkening shadow engulfs Donald Trump's presidency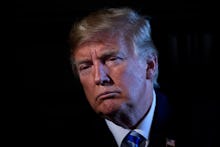 It was one of the most consequential hours of Donald Trump's presidency.
On Tuesday afternoon, the president's former campaign manager Paul Manafort was found guilty on eight bank and tax fraud charges stemming from special counsel Robert Mueller's Russia investigation — verdicts that could send him to prison for the rest of his life.
Simultaneously in New York, Trump's former longtime personal lawyer and fixer Michael Cohen pleaded guilty to eight charges — and, perhaps most significantly, implicated his former boss in the process.
It was a remarkable one-two punch that could have major political and legal ramifications for the president, and could be one of the defining moments of our political era.
"It's unprecedented," Heather Cox Richardson, a professor of history at Boston College said by phone. "It brings into question [Trump's] entire presidency."
The Manafort verdict was a key victory for Mueller, though not an entirely unexpected one. The political operative was facing 18 counts of bank and financial fraud in Virginia, and is facing additional charges related to his work for pro-Russian interests in Ukraine in a separate trial slated to begin in September.
But Cohen's guilty plea may be a game changer for Trump's presidency. Cohen admitted on Tuesday to five counts of tax evasion, a count of making false statements and two campaign finance violations, which he told a New York court he committed "in coordination with and at the direction" of Trump. What's more, he said under oath that he broke campaign finance law in arranging hush payments for Stephanie Cliffords, aka Stormy Daniels, and Karen McDougal specifically to influence the outcome of the 2016 election.
That, to some observers, makes the sitting president a co-conspirator in a pair of felonies — and could possibly put him in legal jeopardy.
"It is a dramatic day for Trump's personal criminal liability," former federal prosecutor Patrick Cotter told Mic on Tuesday. "The president ... stands, for all practical purposes, indicted for a federal crime. What matters now, I think, is what does this democracy do with a leader so indicted."
It's not clear if Trump could be prosecuted for a crime while he's still in office. The Department of Justice has a long-standing guideline that a sitting president cannot be indicted or criminally prosecuted. However, there is widespread disagreement over the constitutionality of such a policy, and questions about prosecuting sitting presidents are far from settled. Additionally, such a rule would not protect him from prosecution upon leaving office — or from possible political consequences, such as impeachment.
It's difficult to know how much appetite there currently is on Capitol Hill for such a dramatic response to the Cohen revelations. Democrats have largely attempted to avoid directly discussing impeachment ahead of November's midterms, and Republicans have mostly been quiet on Cohen's allegations about Trump. Meanwhile, Trump's allies have sought to deflect from both the Manafort verdicts and Cohen guilty pleas, with the GOP issuing talking points Wednesday that there is no evidence of Russian collusion and attempting to undermine the former Trump lawyer's credibility.
It's hardly surprising that Republicans, who currently control both the House and the Senate, don't seem to be breaking from Trump — they've stuck by him through plenty of other political storms, though perhaps none of this magnitude.
"As with everything else in the era of Trump, Republican members of Congress will become suddenly mute when it comes to the fact that the president's campaign manager, his personal attorney and his former national security adviser are now all felons," Republican strategist Rick Wilson, a prominent conservative critic of the president, said in an email. "They'll hide in the tall grass, terrified of Trump's Twitter lunatics and his Fox News enablers."
Yet the latest developments could make it more difficult for Republicans to stay silent on Trump's ongoing scandals — and could present major problems for them in the upcoming election.
"The base is still sticking with him, but it's getting harder and harder to rationalize the continued cover for a president who is so clearly out of his damn mind, surrounded by a bunch of degenerate criminals, and hip-deep in corruption," Wilson said.
Democrats regaining control of Congress in the midterms, as they appear poised to do, could present an existential threat to Trump's presidency. Trump and some close to him, including his former top strategist Steve Bannon, have acknowledged this.
"Today clarifies that November is a referendum on impeachment," Bannon told Bloomberg's Jennifer Jacobs on Tuesday evening. "An up or down vote."
While the possibility of impeachment likely remains far off, Trump could already be facing concrete political blowback over the Manafort verdicts and Cohen plea.
Top Democrats, including Senate Minority Leader Chuck Schumer, have called for Trump nominee Brett Kavanaugh's Supreme Court confirmation hearings to be delayed in the wake of Cohen's allegations against the president.
Sen. Mazie Hirono (D-Hawaii) announced on Twitter late Tuesday that she canceled her meeting with Kavanaugh, suggesting Trump "purposely selected" the conservative judge to shield him from legal consequences.
Democrats wouldn't be able to hold up Kavanaugh's confirmation without any Republican support, but questions remain about how at least two GOP senators — Susan Collins of Maine and Lisa Murkowski of Alaska — will vote.
Because of the extraordinary nature of the developments, it's difficult to tell exactly what's coming next for Trump in the wake of the Manafort and Cohen convictions.
"This is a crisis we have never before faced in our democracy," Richardson told Mic.
Manafort has a second trial in Washington, D.C., in September, where he will face charges more directly related to the main thrust of Mueller's Russia probe. His conviction on Tuesday could also increase the pressure on him to cooperate with investigators. He could be facing life in prison for his convictions.
Cohen attorney Lanny Davis, meanwhile, has explicitly said that the former Trump fixer is willing to share information related to the Russia investigation with Mueller. He is also apparently willing to discuss matters related to Trump's charitable foundation, which is being investigated by the New York attorney general's office.
"Both the Cohen and Manafort convictions make it all but inevitable that more witnesses and evidence against Trump will emerge," Cotter said in an email. "Cohen because of what else he personally can reveal about Trump and also for the other people he can implicate (who in turn can become witnesses against Trump) and Manafort because his example (he should receive over a decade in prison at sentencing) should cause other potential witnesses to cooperate."
"Once Manafort is sentenced, he can be subpoenaed, immunized and forced to testify," Cotter added.
Trump and the White House have maintained the president's innocence, while Trump is defending Manafort and praising him as a "brave man" in the wake of his conviction — all while keeping his distance from his former campaign manager. His rhetoric toward Manafort has led to speculation that he's considering pardoning him — something even Republicans are warning him against.
Cohen, for his part, would not accept a pardon from the president, his lawyer said. He likely wouldn't get one in the first place, based on what Trump has said about him. Insisting that the campaign finance violations are "not a crime," Trump blasted his former attorney on Wednesday, claiming that he was "[making] up stories in order to get a 'deal.'"
"If anyone is looking for a good lawyer," Trump tweeted Wednesday, "I would strongly suggest that you don't retain the services of Michael Cohen!"