Michael Cohen has "knowledge on certain subjects" he's willing to share with Mueller, lawyer says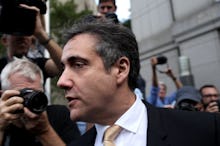 Michael Cohen's attorney Lanny Davis said Tuesday that his client has "knowledge on certain subjects that should be of interest" to special counsel Robert Mueller, as well as potential obstruction of justice on the part of President Donald Trump.
"[Cohen] is more than happy to tell the special counsel all that he knows," Davis told MSNBC's Rachel Maddow on Tuesday. "Not just about the obvious possibility of a conspiracy to collude and corrupt the American democracy system in the 2016 election, which the Trump Tower meeting was all about, but also knowledge about the computer crime of hacking and whether or not Mr. Trump knew ahead of time about that crime and even cheered it on."
The suggestion that Cohen has information about possible collusion between the Trump campaign and the Kremlin in 2016 came as Trump's former longtime personal lawyer and fixer pleaded guilty to eight charges of tax evasion, making false statements and campaign finance violations.
Cohen directly implicated Trump in his campaign violations, saying under oath Tuesday that he broke federal law "in coordination with and at the direction of a federal candidate for office" — a clear reference to Trump — and did so "for principal purpose of influencing election."
It was an extraordinary development, and one that came just minutes after former Trump campaign chairman Paul Manafort was found guilty on eight of the 18 counts of bank and financial fraud he was facing in Virginia, which stemmed out of the Mueller probe.
Davis has been on a media blitz in the wake of his client's plea deal Tuesday, during which he suggested Cohen has information about collusion between the Russians and the Trump campaign. He also suggested that he is willing to provide information to the New York attorney general, who is probing Trump's family charitable foundation, according to MSNBC.
Cohn, a lawyer and fixer, could pose the most significant legal and political problems of Trump's presidency so far.
Davis has directly suggested that the president should also be charged with crimes over Cohen's efforts in 2016 to silence women who say they had affairs with Trump years earlier, and said that his client would not accept a pardon to keep quiet about Trump's alleged misconduct.
"I know that Mr. Cohen would never accept a pardon from a man that he considers to be both corrupt and a dangerous person in the oval office," Davis told NPR.
Trump on Tuesday called the Manafort verdict "sad," but did not initially comment on the Cohen matter. He finally broke his silence on Cohen in a short tweet Wednesday morning.
"If anyone is looking for a good lawyer," Trump tweeted, "I would strongly suggest that you don't retain the services of Michael Cohen!"