Chuck Schumer says 'Roe v. Wade' ruling is in jeopardy after meeting with Brett Kavanaugh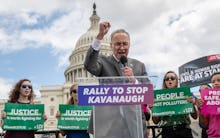 Senate Minority Leader Chuck Schumer spoke out against Brett Kavanaugh's hesitation on Roe v. Wade Tuesday, hours after swing vote Sen. Susan Collins (R-Maine) seemed to indicate she accepted the U.S. Supreme Court nominee views on the divisive ruling.
After meeting with Kavanaugh Tuesday, Schumer said the potential justice would not answer whether Roe v. Wade, which enshrined a woman's right to undergo an abortion, and separate abortion rights ruling Planned Parenthood of Southeastern Pennsylvania v. Casey were "correctly decided."
"I asked [Kavanaugh] if he agreed that Roe v. Wade and [Planned Parenthood v. Casey] were correctly decided," Schumer told reporters Tuesday, as quoted by Politico. "He would not say yes. That should send shivers down the spine of any American who believes in reproductive freedom for women."
Schumer added Kavanaugh, whose position on the court could provide the deciding vote for abortion cases and other controversial topics, had a "special obligation to make his views on this topic clear."
"I reminded [Kavanaugh] repeatedly that he's in a unique position: No other president has nominated someone to the Supreme Court after saying, 'I will only nominate someone who overturns Roe v. Wade,'" Schumer said. "He had a special obligation to dispute that if he didn't agree with it. He did not. At all."
Schumer also said Kavanaugh would not answer questions about whether he believes the Affordable Care Act is constitutional or if a president must comply with a subpoena while in office, Politico reported. Kavanaugh also reportedly had a "lack of recollection" that "didn't ring true" about his time in the George W. Bush White House, a period that Democratic senators have been pushing to learn more about ahead of Kavanaugh's upcoming Senate hearing.
Schumer's views of Kavanaugh's take on Roe v. Wade differed sharply from Collins, a pro-abortion rights Republican considered to be a key swing vote for Kavanaugh's nomination. The other key Republican swing vote, Alaska Sen. Lisa Murkowski, is scheduled to meet with Kavanaugh Thursday.
Following her meeting earlier Tuesday with Kavanaugh, Collins indicated she is now more assured about Kavanaugh's take on Roe v. Wade touting the judge's opinion that the decision is "settled law."
"We talked about whether [Kavanaugh] considered Roe to be settled law," Collins told reporters after her meeting, as quoted by NPR. "He said that he agreed with what Justice Roberts said at his nomination hearing, at which he said that it was settled law."
The Maine senator said Tuesday she would make a final decision about Kavanaugh after his Senate hearing, but she described the meeting as "very helpful, very productive and very important."
Collins has stressed in the past that whether a Supreme Court candidate has a "respect for precedent" is crucial to her vote and has said she would not support a nominee who would overturn Roe v. Wade.
Though Kavanaugh's view of Roe as "settled law" may have assured Collins, it may not actually signal abortion rights would be protected if Kavanaugh is confirmed. Abortion protections could be weakened significantly even if Roe is not overturned outright, and even decisions that are "settled law" can still be overturned by the Supreme Court — a fact Schumer pointed out in reaction to Collins' meeting.
"Everything the Supreme Court decides is settled law until a majority of the Supreme Court decides to unsettle it," Schumer said Tuesday, according to Politico. "Conservative justices have a habit of saying something is settled law during their confirmation and then overturning the minute they get on the bench."