In Twitter rant, Trump calls Manafort "brave man" who "refused to 'break'" like Cohen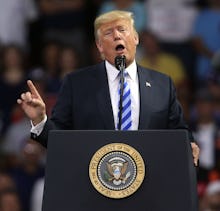 In a Twitter rant Wednesday morning, President Donald Trump responded to Tuesday's horrible afternoon of legal news regarding current and former members of his inner circle.
In his tweetstorm, Trump defended his former campaign chairman Paul Manafort — who on Tuesday was convicted on eight felony counts of tax evasion and bank fraud — calling him a "brave man."
"I feel very badly for Paul Manafort and his wonderful family," Trump tweeted. "'Justice' took a 12 year old tax case, among other things, applied tremendous pressure on him and, unlike Michael Cohen, he refused to 'break' — make up stories in order to get a 'deal.' Such respect for a brave man!"
Trump went on to insinuate that because the jury could not agree on 10 other charges Manafort was facing that the entire trial was a "witch hunt."
Of course, the jury's failure to reach a verdict on 10 counts does not mean Manafort is innocent of those charges. In fact, prosecutors could choose to re-try Manafort on those counts if they wished. And it does not discount the fact that Manafort was found guilty on eight charges that carry a maximum prison sentence of 80 years. Nevertheless, Manafort next faces a trial on charges of foreign lobbying and obstruction of justice. That trial is set to begin Sept. 17.
Trump then moved on to his longtime personal lawyer and "fixer" Michael Cohen, who pleaded guilty on Tuesday to similar tax evasion and bank fraud charges as Manafort, as well as two campaign finance charges that directly implicate Trump himself.
"Michael Cohen plead guilty to two counts of campaign finance violations that are not a crime," Trump tweeted. "President Obama had a big campaign finance violation and it was easily settled!"
Of course, the campaign finances charges Cohen pleaded guilty to are in fact crimes.
The first campaign finance charge Cohen pleaded guilty to was knowingly and willfully causing a corporation to make a contribution and expenditure over the legal limit in an effort to influence an election. This charge relates to paying $150,000 to a former Playboy model to keep her affair allegation against Trump silent.
Cohen also pleaded guilty to knowingly and willfully making an excessive campaign contribution to Trump's campaign to influence the election. This relates to the $130,000 payment to porn actress Stormy Daniels to keep her affair allegation silent.
And Trump is incorrect in saying that the Cohen counts are similar to the campaign finance fine former President Barack Obama had in 2008. That fine came in regards to auditing and filing errors, not knowing and willful attempts to exceed campaign finance limits to influence the campaign.
For example, the Obama campaign was fined for not filing documents required to be submitted in the final weeks of the 2008 campaign. At the time, 1,300 contributions totaling more than $1.8 million flowed into Obama's coffers in the ending days of the election. The campaign was also fined for not returning excessive campaign contributions individuals had erroneously made to the campaign in a timely fashion.