Nicki Minaj is the queen of rap. She needs to start acting like it.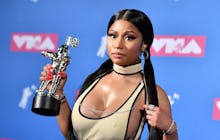 For an incredibly brief moment on Monday, it looked as though Nicki Minaj finally had an epiphany by way of retweet. She cosigned a message that read: "I don't think Nicki Minaj understands she's NICKI MINAJ. No one can ever change that."
Over the weekend, the emcee used Twitter to publicly complain about her fourth album, Queen, debuting at No. 2 on the Billboard 200 — behind Travis Scott's Astroworld, which spent its second week in the top spot. In short, Minaj feels that Scott besting her was rooted in label trickery and a media blast from Kylie Jenner, with whom Scott has a child. Now, regardless of the album's chart placement, even the most ardent Nicki Minaj fan — insert frantic wave and chunking of the deuce from me here — is prone to admit that the rollout for Queen has been less than ideal.
Yet, because she is one of the most successful rappers on the planet (no matter the gender), she still posted respectful stats: 185,000 equivalent album units in its first week of release. "It marked her largest streaming week ever, and extended her own record for most top-two charting albums among female rappers to four," Billboard reported.
These stats are a testament to the potency of Minaj's career despite her being roughly a decade into it. Although Minaj frames so much of her significance in pure numbers, she managed to see the end result — debuting at No. 2 — as a colossal failure, one that should be directly attributed to an unjust system. Album sales mean something, but they don't mean everything — especially when you're as established as Minaj is, when you're a legend. Why is she sitting here obsessing over record sales to the point at which she calls Travis Scott the "ho n*gga of the week"? Why deprive me, a Houston native and Nicki Minaj fan, of a future Travis Scott and Nicki Minaj collaboration? Why?
A woman shouldn't have to be nice. She has every damn right to be as rude, outspoken and loud as she wants — like many men in hip-hop who are often rewarded for having those qualities. However, this isn't about an artist, or better yet, a queen demanding respect.
This is more about someone seemingly harboring an insecurity about their place, despite thriving in a system and a set of rules that've never made room for women, much less women like her. And when I say women like her, I mean a rapper who happens to be a woman and who can out-rap the boys, who doesn't want or need their assistance, and who will be damned if they try to claim responsibility for her work and the success it has yielded.
What makes this album rollout so frustrating, from a fan's perspective, is that her antics have overshadowed her music. People love "Barbie Dreams." Her recent performance at the MTV Video Music Awards was one of the liveliest moments of the night. She has all she needs for this album to be a win for her, no matter where it first landed on the charts.
But she doesn't seem to be enjoying her accomplishments because she still acts like she has something to prove. She doesn't.
She does, however, find herself having to shoot down talk of a meltdown, like on Wednesday's edition of her Queen Radio program on Beats 1. Minaj quipped, "You all think I'm having breakdowns on the internet. Meanwhile I got my feet kicked back having my pussy ate."
She has found sympathizers within her sizable fanbase, and among her peers, such as Chance the Rapper, who tweeted on Monday, "I can't imagine what it'd be like to literally not be able to show yo frustrations with actual inequities and subjugation. Without being called bitter or angry or a liar or crazy."
But, for the most part over the past few days, she's been the subject of ridicule alleging that she's in a feud with Scott and Jenner's baby, Stormi; a source of secondhand embarrassment for supporters; and, presumably, a headache for label publicists.
And, after she managed to compare her struggles to those of Harriet Tubman, there have also been calls for the queen of rap to locate the nearest grip and hold it with all of her might.
I don't know if Harriet Tubman was eating a bowl of dirty rice as she lectured spooked-out Negroes to run from massa and join her in freedom, but I am clear on the fact that it's distasteful to take complaints rooted in capitalism and present them as parallel to those of a woman whose formerly enslaved body was once used to set up capitalism in this country. And while Minaj may not realize the ramifications of her comments, it bears repeating: It's tacky as shit. She should know better. (And I'm not even going to get into reports that Minaj apparently harassed individual critics online and weaponized her fandom against them.)
If Minaj wants to speak out on a matter she finds debasing and discriminatory, such is her right. But if she's going to, she ought to be more considerate of the work of those who've paved the way for her to enjoy the privileged existence of being a multi-millionaire. It must be frustrating to put years of work into a project and not have it make the exact splash you wanted, but ultimately, she's griping about how her competition had a better marketing gimmick.
As if all that wasn't enough, this week has brought yet another troubling development: On Wednesday, it was announced that Minaj is canceling the North American leg of her upcoming tour alongside Future after she "decided to reevaluate elements of production." (It's worth noting that Page Six reported that ticket sales were "in the toilet.") Now, instead of beginning in September, the tour will start in February, with its European portion. North American dates are going to be rescheduled at some point, but it can't help but feel like this is a sign of just how tumultuous this year has been for her; and it's just the latest flare-up for Minaj's tour, which has drawn criticism for the involvement of controversial rapper 6ix9ine.
So when I saw that Minaj herself retweeted the comment "I don't think Nicki Minaj understands she's NICKI MINAJ. No one can ever change that," I hoped it was a sign that she realized that one disappointment doesn't negate all that she has accomplished. Like it or not, Nicki Minaj is a legend.
Queen, much like 2010's Pink Friday and 2014's The Pinkprint, is a solid piece of work. It suffers from the same issues most Cash Money-related releases tend to have: It has too many tracks and the sequencing is a bit off. Nonetheless, many enjoy the album, and to be clear, Nicki Minaj is rapping her ass off throughout it. There are very few rappers of any genre who are as versatile, technically skilled and purely talented as she is. Even if you don't like her pop records, she did them because she wanted to be successful at a time when female rappers were nonexistent in mainstream rap. She did what she needed to do — everyone who came after can thank her for making it easier for them to get the shot they deserve.
Nicki Minaj singlehandedly revived a subgenre of rap. She's been the top female rapper and one of the best-performing rappers overall for about 10 years. The fact that she still dominates much of the conversation speaks to her success, and eventually, the legacy she'll leave behind. Purists can talk about her lack of a "classic album" all they want, but her entire body of work, and specifically the volume of it, is enough to cement her place in history.
For the life of me, I do not understand why she cannot take comfort in that and the fact that she's still going strong.
But the queen is too busy fighting frivolous battles. She's lashing out at people who know that if you're Nicki Minaj, you don't need to lower yourself to their level anymore. Again: You're Nicki Minaj. Act like it already.