A running list of GOP reactions to Michael Cohen's implication of Donald Trump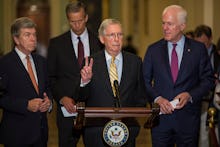 When the news came down that Michael Cohen, President Donald Trump's longtime lawyer and political "fixer," had pleaded guilty Tuesday afternoon to eight felony counts, the bigger story wasn't that Cohen's shady history of underhanded dealings had finally caught up to him.
Rather, it was his admission that an elaborate plot to dole out hush money payments to two women in order to prevent them from derailing the 2016 election with damning allegations against then-candidate Trump had actually been orchestrated by the future president himself.
Despite the major implications of Cohen's bombshell testimony, which effectively names Trump an alleged co-conspirator in a federal crime, Republicans on Capitol Hill have remained largely silent on what the news could mean for the White House in the immediate aftermath of Tuesday's court proceedings.
Below is a running list of reactions — and notable obfuscations — from some of the Republican Party's most prominent figures.
Mitch McConnell
Trump set the tone after arriving in West Virginia for a scheduled rally soon after the news first broke. The president called reports that his former campaign manager, Paul Manafort, had been found guilty on eight counts of bank and financial fraud charges "sad" news. He declined to address the Cohen news, however.
During a weekly news conference on Capitol Hill hours later, Senate Majority Leader Mitch McConnell (R-Ky.) followed suit, going notably silent on the breaking Cohen testimony. Instead, McConnell addressed the possibility that Congress might not take up a bill to sanction Russia for meddling in the 2018 midterm elections — legislation he supports — until October.
"The chances of sandwiching that in, honestly, in the month of September with all the other items that we have squirreling around is probably pretty slim, but we'll be here longer this year," McConnell said. "It would be high on the list for consideration for floor time."
Paul Ryan
House Speaker Paul Ryan (R-Wis.) was one of few Republican leaders to directly address the Cohen testimony Tuesday, though he was tepid in his response to what he called "serious charges" and claimed to need "more information than is currently available at this point."
Lindsey Graham
Perhaps the most substantive response to the Cohen and Manafort news was a statement from Sen. Lindsey Graham (R-S.C.).
"The American legal system is working its will in both the Paul Manafort and Michael Cohen cases," Graham said in the statement. "Thus far, there have yet to be any charges or convictions for colluding with the Russian government by any member of the Trump campaign in the 2016 election. It's important to let this process continue without interference.
"I hope Mr. Mueller can conclude his investigation sooner rather than later for the benefit of the nation," he added.
Rudy Giuliani
Unsurprisingly, one of the first responses to the Cohen allegations came from Trump's personal lawyer, Rudy Giuliani, who knocked Cohen for his "lies and dishonesty" in a statement.
"There is no allegation of any wrongdoing against the president in the government's charges against Mr. Cohen," Giuliani said. "It is clear that, as the prosecutor noted, Mr. Cohen's actions reflect a pattern of lies and dishonesty over a significant period of time."
John Cornyn
When Sen. John Cornyn (R-Texas) was asked about his thoughts on Cohen implicating Trump, the majority whip took a page from Giuliani's playbook and basically suggested "truth isn't truth."
"I don't think it implicates him at all, particularly on the Russia investigation," Cornyn told reporters on Capitol Hill. "This doesn't add anything to the allegation of misconduct relative to the Russia investigation."
Chris Stewart
During a Wednesday afternoon appearance on CNN's The Situation Room with Wolf Blitzer, Rep. Chris Stewart (R-Utah) called the entire legal snafu "a mess."
"I honestly don't know what to believe at this point," Stewart said. "Mr. Cohen has been very inconsistent in his statements. The president hasn't been terribly consistent in some of the things he has said."
During the segment, Stewart also said it would be "a mistake" for the president to pardon Manafort.
Mitt Romney
Former Massachusetts governor and former GOP presidential nominee Mitt Romney on Wednesday tweeted a lukewarm condemnation of the "highly placed individuals" who were implicated in Tuesday's legal proceedings.
"The events of the last 24 hours confirm that conduct by highly placed individuals was both dishonorable and illegal," Romney wrote. "Also confirmed is my faith in our justice system and my conviction that we are a nation committed to the rule of law."
Orrin Hatch
"Naturally it makes you very concerned," Sen. Orrin Hatch (R-Utah) told reporters Wednesday. "But the president shouldn't be held responsible for the actions of people that he's trusted."
Tom Cole
In a Wednesday interview, Rep. Tom Cole (R-Okla.) cautioned his GOP colleagues against retreating into "a fantasy world" where Cohen's implication of Trump wouldn't have widespread political implications.
"I'm disturbed at what I see," Cole told CNBC. "I've heard some on our side say this will help Republicans rile up our base. That, to me, is laughable."
While he said it was "too soon" for impeachment talk, saying "I'll leave that to the Judiciary Committee," Cole also spoke in frank language about the severity of his party's current political reality.
"Yesterday was a pretty sobering day," Cole added. "The Mueller probe needs to be allowed to proceed."
John Katko
In an article Wednesday, the New York Times laid out the grim reality for Republican leaders in embattled House seats who fear the wrong response to the mounting Trump scandals will tip the scales during midterms, resulting in a loss of control in the Capitol.
Among those leaders is Rep. John Katko (R-N.Y.), who is currently running for re-election in a tight race in central New York. Katko on Wednesday said the "mounting legal trouble" around Trump "raises it to another level of concern, there's no question about it."
"Wherever the facts go, if they go towards the president or someone in the White House, they're not above the law," Katko added. "No one is."
Carlos Curbelo
Another embattled lawmaker who has found new energy with which to denounce Trump is Rep. Carlos Curbelo (R-Fla.), who on Wednesday called the tangled web of Trump-adjacent lawbreaking a "sad chapter in our country's politics."
"He's making a major mistake by attacking the Mueller probe in such a personal way," Curbelo said. "The best thing for everyone, especially if the White House is so confident that the president will be absolved in this process, is to let the process continue."