What Melania Trump wore her 83rd week as first lady — a sensible pussy bow for bullying prevention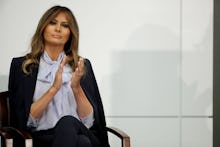 After spending week two, week eight, week 12, week 16, week 30, week 48, week 51, week 67, week 69, week 70, week 71 and week 82 completely out of the spotlight, seeing first lady Melania Trump twice in one week is cause for celebration.
Whether she be traipsing with her signature aviators across the White House lawn or Be Bestin' it up in Maryland, Trump, despite her penchant for evanescing, is never not turning looks.
This is what she wore this week, her 83rd week as first lady.
Sunday, Aug. 19: Green turtleneck sweater in the summer heat
Returning to the White House from Bedminster, New Jersey, Trump donned a Ralph Lauren green cashmere turtleneck sweater (the temperature in D.C. on Sunday reached a high of 87 degrees).
She paired the top with three of what have become her signature statement pieces: white jeans, Stan Smith shoes and aviators.
Monday, Aug. 20: $1,200 Chloe pussy bow blouse
Trump's signature pussy bow (first seen on her during the second 2016 presidential debate, then again during the final debate and a third time for good measure in May 2017) made a reemergence earlier this week.
This time, Trump donned a $1,200 Chloé pale blue pussy bow blouse paired with a black Michael Kors suit during a federal conference on cyberbullying she attended on Monday in Rockville, Maryland.
On Aug. 20, Trump announced via the Associated Press she would embark on her first solo international trip to several countries in Africa in October, so expect some major Melania fashion moments coming up.
You can read previous recaps of what Melania Trump wore here.