In these islands off South Carolina, you'll find Gullah food cooked the way it was 150 years ago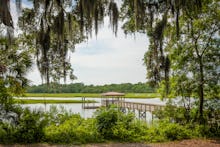 Thick bounties of Spanish moss hang from stately white oak trees blanketing the swampy St. Helena Island off the coast of South Carolina. St. Helena is one of the many islands that make up the Sea Islands in South Carolina, Georgia and Florida — an area from which Gullah people can trace their descendants back hundreds of years to West Africa.
"I didn't know what the word 'Gullah' was growing up," Sallie Ann Robinson, a Gullah descendent, said. "In the '70s I started hearing it when boat tours started arriving on the island, and realized that we lived differently than many other people in the country," she said.
40% of slaves coming into the mainland were shipped through the port of Charleston, and many of those slaves became known as the Gullah in South Carolina. Following the Civil War, black communities were established on the Sea Islands by freed slaves and the isolation of the islands helped preserve the West African culture of slaves' descendants, keeping the arts, culture and cuisine strong for generations.
One of the ways that the Gullah culture is preserved is through Lowcountry cuisine. Lowcountry refers to a geographic area encompassing the South Carolina counties of Beaufort, Colleton, Hampton and Jasper, and West African, English, French and Caribbean cuisines came together to create Lowcountry cuisine, based on rice and seafood found in this region. The isolation of the Sea Islands meant that the Gullah never depended on the U.S. government for provisions — everyone helped one another in a traditional African communal way. In fact, a bridge from Beaufort to St. Helena wasn't built until 1927, so the Gullah people were dependent on living off of the fruits of the island: fish, crabs, shrimp, garden-grown vegetables and chicken.
St. Helena has one of the largest Gullah communities in the Lowcountry. One of the most lasting historic legacies of the Gullah is the 50-acre campus housing the Penn Center, which was one of the first schools for freed black slaves following Emancipation of slaves in 1862. The school offered both educational coursework and industrial subjects: There was instruction on how to milk cows and tend chickens, as well as a canning class to teach students how to preserve homegrown fruits and vegetables, according to Penn Center tour guide.
Self-sustainability is an important element of Gullah cooking. Robinson's family lived off the land on another Sea Island, Daufuskie, which had no restaurants or stores. "We grew our own gardens for fresh vegetables, hunted in the woods and fished for seafood," she said. "Despite the residents not having much wealth, no one went hungry. We came together in times of need and made do with the little that we did have and shared food. When I was an adult, people would come to the island and ask me, "Well what happens if you're out of something and you needed supplies from the store?" Robinson said, "We are survivors and we only need what we can get from the earth."
"We are survivors and we only need what we can get from the earth." — Sallie Ann Robinson
At Gullah Grub on St. Helena, located in a beautiful late 19th century general store-turned-restaurant, chef Bill Green can trace his Gullah ancestry to the 1700s to Edward Green, a free farmer. He is still cooking in the classic way that his ancestors did: His menu highlights dishes like okra (which came from Africa), Southern LoCountry Crab Soup and shrimp gumbo.
"Gullah cooking is about cooking by the seasons," Green said. "We go with nature, which is easier for your body to handle. In the summer, the seasonal okra, beans and tomatoes help to build up your strength and body for the fall, and we didn't eat pork and fat," he said. "We're coming into fall, so string beans, yams and greens begin to come into season."
On Lady's Island — five minutes from St. Helena island — Momma Lou's is also focused on Gullah cooking traditions."Gullah cooking is who I am, being raised in the Lowcountry it comes naturally," chef and owner Stephanie Finn said. "I saw my grandmother cook food from my grandfather's field: fresh okra, collards, sweet potatoes, snap beans and field peas. I never think of Lowcountry cooking as creating anything new, just passing down what I was taught." She frequently has seafood like fried catfish, steamed crabs and shrimp and grits on her menu.
Sherri Whitmore, who runs the Rent-a-Chef catering company out of St. Helena, said Lowcountry cuisine is comparable to farm-to-table food. "This concept is not new for the Gullah people of St. Helena Island or any of the other coastal Sea Islands: We ate what we grew and farm-raised," she said. Some of the dishes that her catering company prepares today are stuffed collard greens, warm roasted sweet potato salad, speckled-butterbean succotash, chicken and sausage gumbo, shrimp gumbo, smoked chicken and other meats on the grill.
Food traditions hold a place of importance even after death. As you make your way across St. Helena, you will see many names like Middleton and Green marked on headstones in small, unpretentious graveyards. According to Seretha Tuttle-Wynn, who runs Gullah-N-Geechie Mahn Tours, there is a centuries-old burial practice of leaving items like pottery and shells on loved ones' graves. But there is also a tradition of breaking the last plate the deceased ate off of and placing it on the grave site. It's meant to be a symbol of that person still living on — another example of the way food is an intrinsic part of Gullah culture.